Welcome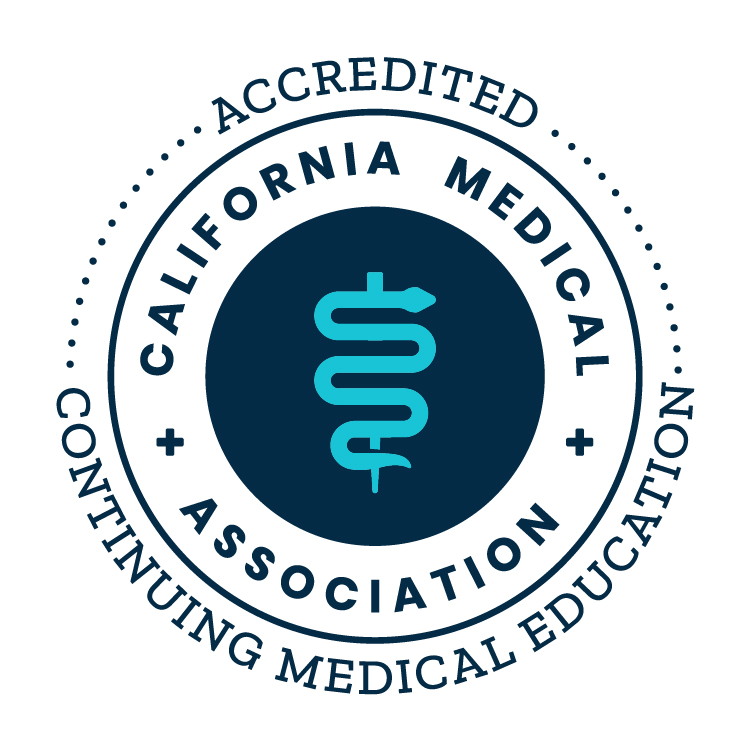 The California Society of Addiction Medicine offers high-quality, evidence-based Continuing Medical Education to enable physicians and other health professionals to improve the treatment of patients with substance use disorders. CSAM courses draw upon the latest research and clinical advances in the scientific and medical communities and feature top experts in the field. The California Society of Addiction Medicine is accredited by the California Medical Association (CMA) to provide continuing medical education for physicians. 
2021 High Yield Question Bank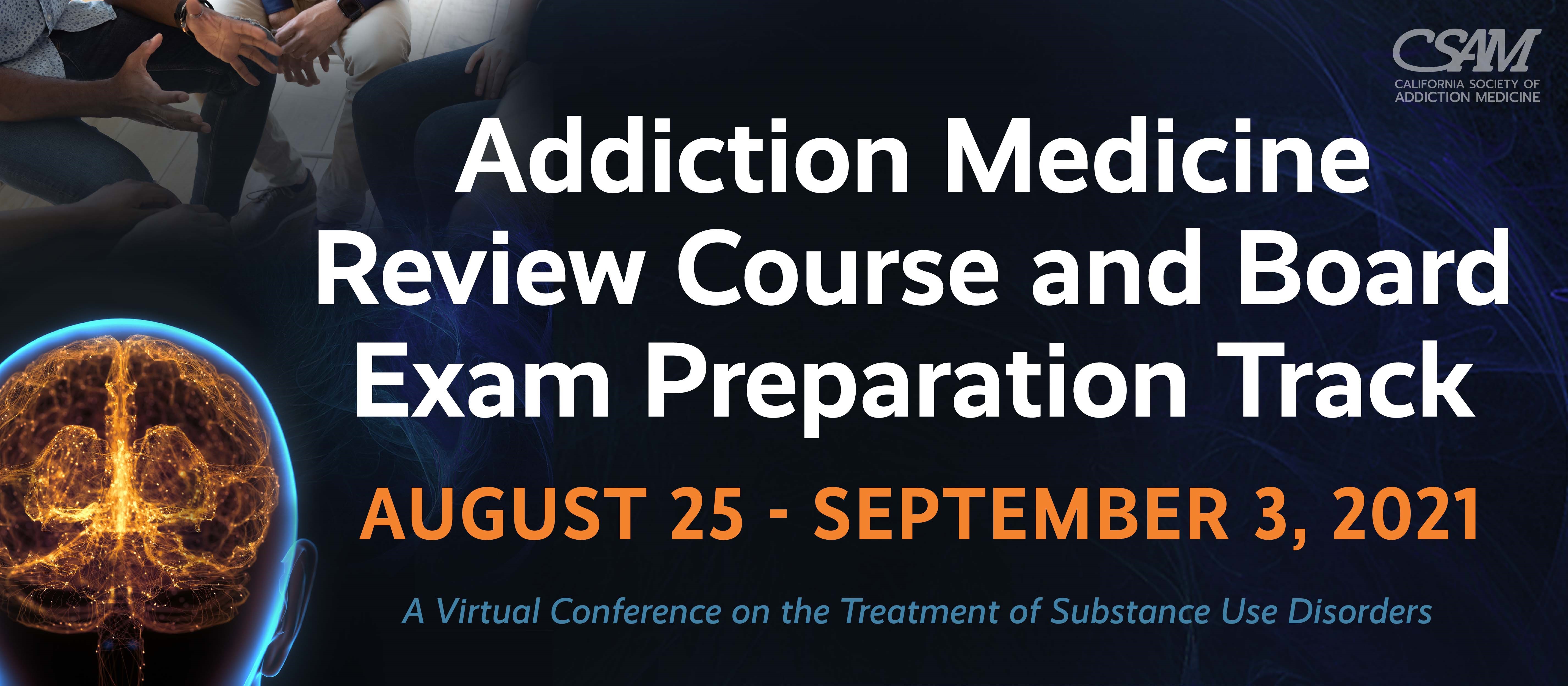 The High Yield Question Bank is designed for physicians taking the Addiction Medicine Board Exam from the American Board of Preventive Medicine. The set of over 500 board-style questions has been developed by physicians in the field of addictions and is aligned with the 16 key topic areas of the American Board of Preventive Medicine's exam content Blueprint. This version will offer more demonstration questions on Preventive Medicine as recommended by last year's test-takers. This web-based, on-demand set of questions with correct answers indicated is ideal for self-study and self-paced learning. You may take the quiz multiple times to practice! The question bank was refreshed in 2021 by physicians in the field.
PRICE -- $285 (MEMBERS) ; $399 (NON-MEMBERS) | Total CME credits available: 10
2020 State of the Art & Addiction Medicine Board Exam Preparation Track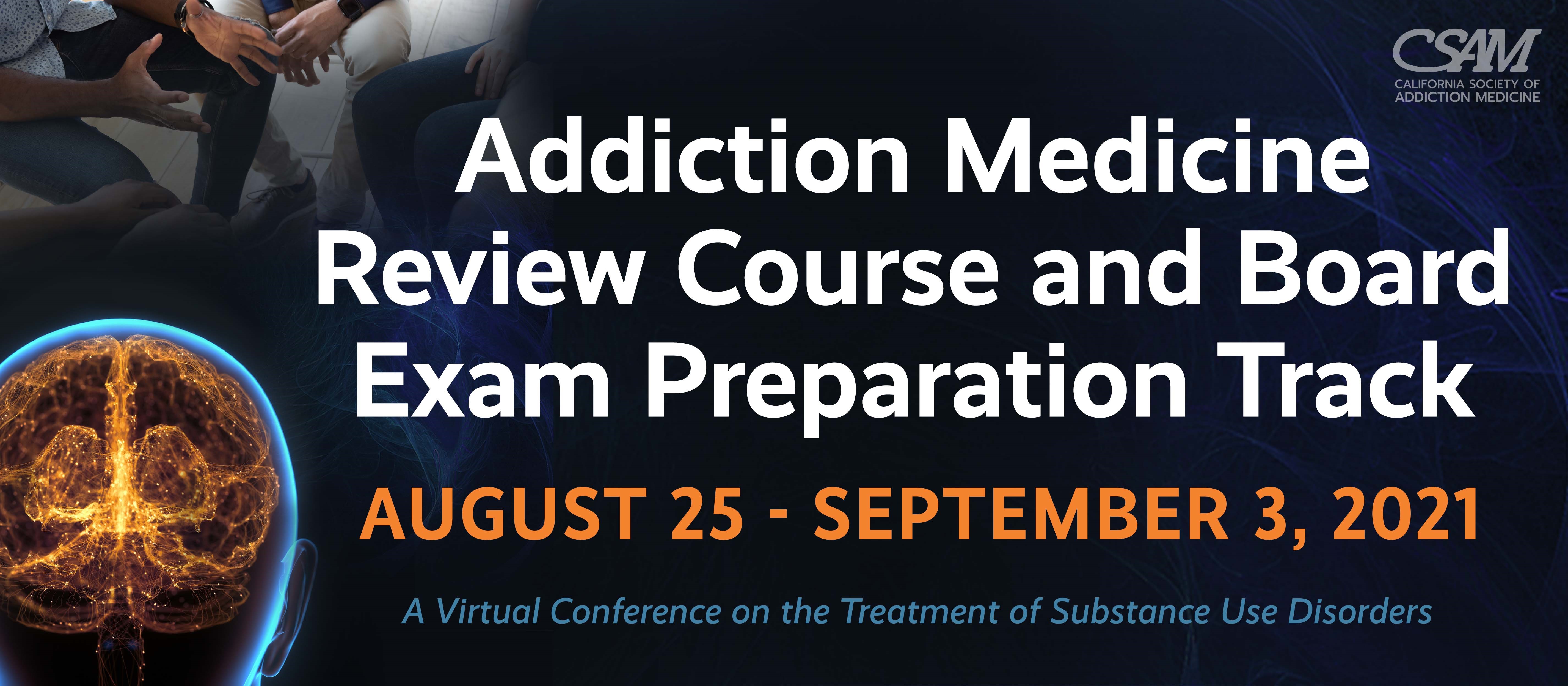 CSAM State of the Art brings together national experts to share frontiers of research, treatments, and policies in the field of Addiction Medicine. This conference covers expansion of treatment into correctional health, hospital consultation services, emergency rooms, and even across the Border. It will cover how, despite the pandemic, telehealth can reach those who are isolated. It will address the worrisome trends in fentanyl, methamphetamine, tobacco and benzodiazepines use; legalization of cannabis, treatment updates for youth, cannabis and alcohol in pregnant women; and novel treatments such as non-benzodiazepines for alcohol withdrawal and psychedelics for substance use disorders.
The activity consists of 22 lectures presented live virtually on September 22 - September 25, 2020.
PRICE -- $345 (CSAM/ASAM MEMBERS) | $495 (NON-MEMBERS)
Total CME/CE credits available 17.25 | Total MOC credits available 16.25 
The Board Exam Preparation Track is designed for physicians taking the Addiction Medicine Board Exam from the American Board of Preventive Medicine and is aligned with the Board's exam content Blueprint. The Faculty of experienced educators cover 16 key topic areas, with sample exam questions and rationale provided for answers. Test-taking and study tips will be covered. Following recommendations from last year's test-takers, questions on Preventive Medicine will be covered in greater depth this year.
PRICE -- $450 (MEMBERS) ; $600 (NON-MEMBERS) | Total CME credits available: 7.25
ADDICTION MEDICINE IN CORRECTIONAL SETTINGS
NEW!! This virtual workshop, part of the 2020 State of the Art Conference, will address the delivery of addiction medicine treatment within correctional health settings. Presenters will review the structure of correctional health systems with jails and prisons in general and highlight the application of a medication-first (low barrier) approach to providing medications for opioid use disorder to inmates within one California county jail system. [More]
PSYCHIATRY FOR ADDICTION PHYSCIAN
NEW!! This virtual workshop, part of the 2020 State of the Art Conference, will address psychiatric diagnosis and treatment interventions relevant to non-psychiatric addiction medicine providers. Among the topics to be covered are approaches to treating anxiety, depression, psychosis and personality disorders in patients with active substance use. [More]
Courses in Progress