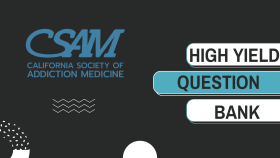 The High Yield Question Bank is designed for physicians taking the Addiction Medicine Board Exam from the American Board of Preventive Medicine.
A goal is to improve pass rates by helping test takers focus on high-yield concepts and successful study methods.
It consists of:
Interactive Self-Assessment (10 CME credits) featuring over 600 updated board-style questions with feedback and/or references for each, organized by topic areas similar to those on the ABPM exam. You may take the quiz multiple times to practice!
The question bank was refreshed in 2022 by physicians in the field. If you have any questions or feedback about the question bank, please use the "Contact Us" tab above. 
PRICE: $149 (Members) | $219 (Non-Members)
Target Audience
Those planning on taking the ABPM Addiction Medicine Board Exam. 
Physicians and other clinicians who wish to conduct a self assessment of their knowledge of addiction medicine in order to identify areas for further study.
Learning Objectives
Demonstrate knowledge in key focus areas of addiction medicine.
Describe the effects of alcohol, tobacco and other drugs.
Recognize the various treatment approaches for addictive disorders.
This set of over 600 board-style questions has been developed by physicians in the field of addictions and is aligned with the 16 key topic areas of the American Board of Preventive Medicine's exam content Blueprint. This version offers more demonstration questions on Preventive Medicine as recommended by last year's test-takers. This web-based, on-demand set of questions with correct answers indicated is ideal for self-study and self-paced learning.
Chwen-Yuen Angie Chen, MD, FACP, FASAM, Co-Chair
Dr. Chen is a Board Certified Internist and Addiction Medicine Specialist. She is a Clinical Associate Professor of Medicine at Stanford University School of Medicine and is Medical Director of the Primary Care Chemical Dependency Clinics, teaching medical students, residents and fellows. She is on the CSAM Board of Directors as Chair of Communications and Editor of CSAM News.
No relevant financial relationships to disclose.
Thomas W. Meeks, MD, FASAM, Co-Chair
Dr. Meeks completed psychiatry training at Emory University in Atlanta then a geriatric psychiatry fellowship at UC San Diego. Later he began working for the San Diego VA in their addiction treatment program and obtained certification in addiction medicine. He is currently Medical Director for the Portland VA Health Care System's Substance Addiction Treatment Program and Opioid Treatment Program. He is an Assistant Professor of Psychiatry at Oregon Health & Science University where he is a VA Site Director for the OHSU Addiction Medicine Fellowship and Associate Program Director for the OHSU Addiction Psychiatry Fellowship.
No relevant financial relationships to disclose.
Daniel Cox, MD
Dr. Cox graduated from UCSF School of Medicine, AOA distinction. He worked for one year in the homeless primary care, focused on Addiction Medicine, "Skid Row" (4th and San Pedro), LA. He is attending, VCMC Addiction Medicine Fellowship and Consult Service. He is board certified in Addiction Medicine. 
No relevant financial relationships to disclose.
Dustin DeYoung, MD
Dr. DeYoung is a psychiatrist for the University of California, Los Angeles (UCLA) Behavioral Health Associates. He received his medical degree from the University of Michigan Medical School and completed a combined residency in Psychiatry and Family Medicine at the University of Iowa Hospitals and Clinics. He then completed a NIDA-sponsored T32 Training Program on Addiction Medicine at UCLA and previously worked as a research physician for the UCLA Department of Family Medicine. He is board certified in Psychiatry, Family Medicine, and Addiction Medicine. He has a busy general psychiatry practice, has worked on multiple NIH-funded clinical trials evaluating different medications for the treatment of methamphetamine use disorders, and has co-founded a company to explore therapeutic options for chronic pain and opioid use disorders. He is most interested in the integration of mental health and addiction services, chronic pain and opioid use disorder, and the benefits and risks of cannabis. 
Disclosure: BDH Pharma, LLC - Salary as Co-Founder
Isabella Morton, MD, MPH
Dr. Morton completed her psychiatry fellowship at UCLA and Addiction Psychiatry Fellowship at UCSF. Throughout her training she worked with individuals with severe mental illness, homelessness and criminal legal involvement. She now works at the Greater Los Angeles VA in the SUD clinic, psychosis clinic, and doing street outreach.  
No relevant financial relationships to disclose.
Katherine Pier, MD
Dr. Pier practices Addiction and General Psychiatry at Kaiser Permanente. She is originally from New York City and completed medical school and residency at Mount Sinai Hospital before moving with her family on a leap of faith out West to continue her training with UCSF's Addiction Psychiatry Fellowship. She was able to join as faculty at one of the best rotations of the fellowship, which takes place in the Addiction Medicine Recovery Services at Kaiser in San Francisco. She is a voluntary Assistant Clinical Professor at UCSF and is now Kaiser's Site Director for the fellowship. Kate is married to her high school crush. They have two daughters, Sarah & Anna, ages 5 and 2. Kate loves animals, crafts, baking, on-demand workouts, love stories, party favors, and pizza, especially pepperoni mushroom.  
No relevant financial relationships to disclose.
Eleasa Sokolski, MD
Dr. Sokolski recently completed her Addiction Medicine fellowship at Oregon Health & Science University (OHSU) in July 2022 and is joining the OHSU faculty this summer as an Assistant Professor. She will be providing inpatient Addiction Medicine consultation as part of the Improving Addiction Care Team at both the OHSU main hospital and Hillsboro Medical Center. Additionally, she will be providing outpatient psychiatry consultation for the internal medicine clinic. She is originally from California and attended both college and medical school at UC San Diego followed by a combined Internal Medicine and Psychiatry Residency at UC Davis. Dr. Sokolski's professional interests include medical education, treatment of co-occurring addiction and psychiatric disorders, and the application of psychotherapy interventions to the hospital setting. In her free time, she enjoys spending time in nature by hiking and rock climbing.
No relevant financial relationships to disclose.
Rachel Sussman, MD
Dr. Rachel Sussman grew up in Pennsylvania.  She attended Yale College, where she majored in cognitive science, and then completed a master's in cognitive psychology at Harvard.  After graduate school she worked in Shanghai, China as a science teacher and guidance counselor, and became the acting director of Fudan International School before leaving to attend medical school at Stanford, focusing on medical education and community health.  She completed residency and served as chief resident at San Jose-O'Connor Family Medicine Residency, followed by a fellowship in addiction medicine at Stanford.  For the past 5 years, she has served as one of the primary teaching faculty in the Stanford-O'Connor Family Medicine Residency Program, as well as one of the lead faculty in the Stanford addiction medicine fellowship program, focusing on addiction medicine in primary care settings and with under-served populations.  She has established an addiction treatment program which includes outpatient consultation, group visits, as well as inpatient consults.  She is an active member of SCCOOPP (Santa Clara County Opioid Overdose Prevention Project), DUHAC (the Drug User Health Advisory Committee of Santa Clara County), and is currently serving on Santa Clara county's Fentanyl Working Group alongside the county supervisor and district attorney.
No relevant financial relationships to disclose.
Takeo Toyoshima, MD, MRO
Dr. Toyoshima is a general, addiction, and forensic psychiatrist based out of the San Francisco Bay Area. He is triple boarded-certified in psychiatry, addiction psychiatry, and forensic psychiatry. He completed his undergraduate studies at Yale, medical school at UCLA, then psychiatry residency, addiction psychiatry fellowship, and forensic psychiatry fellowship at UCSF. He currently serves as the medical director of the Drug and Alcohol Treatment Clinic at the San Francisco VA Medical Center. He is an assistant professor of psychiatry at UCSF, serves as the VA Site Director for the UCSF Addiction Psychiatry Fellowship, and operates a private clinical and forensic practice. His areas of interest include addiction and dual diagnosis including those with serious mental illness; forensics; Japanese and Asian-American mental health; and financial health/literacy's relationship with mental health. He is fluent in Japanese and is one of the only Japanese-speaking psychiatrists on the west coast of the United States. 
Disclosure: Roche (Ended as of 07/2021) - Consultant; Intuitive Surgical - Stocks
Mason Turner, MD, FASAM
Dr. Turner is the Senior Medical Director for Behavioral Health for Intermountain Healthcare based in Salt Lake City, UT. His leadership in mental health care focuses on the development and evolution of strategic innovations in behavioral health care delivery that enhance quality of care and clinical excellence and are guided by principles of equity and inclusion of the patient/consumer voice into all aspects of the behavioral healthcare ecosystem. Including integration initiatives which link mental health care and addiction medicine services with both primary and specialty medical care, as well as supporting innovative technological means of reaching patients for treatment of behavioral health conditions, he is also committed to enhancing access for behavioral health care services to all those who need it. Additionally, he has extensive experience in promoting employee health and well-being in a variety of corporate and healthcare sectors. As a clinician, he specializes in addiction medicine, consult-liaison psychiatry and treatment of personality disorders. He has received extensive training in resiliency-and systems-based approaches for improving the mental health and well-being of refugees, asylum seekers and torture survivors. Dr. Turner also served as a former Assistant Clinical Professor in Psychiatry at the University of California, San Francisco Medical School, where he taught medical students at all levels the practice of interviewing patients and clinical reasoning skills. He also served as adjunct faculty at the University of Hawaii John A. Burns School of Medicine.
No relevant financial relationships to disclose.
Warren Yamashita, MD, MPH
No relevant financial relationships to disclose.
Zachary Zwolak, DO, FAAFP, FASAM
Dr. Zwolak received his Osteopathic Medical Degree from the Lake Erie College of Osteopathic Medicine in Erie, PA.  He then completed his Family Medicine Residency training at St. Luke's University Health Network, Bethelem, PA.  He went on to complete a High Risk Obstetrics Fellowship at Natividad Medical Center in Salinas, CA.  He joined the Family Medicine Faculty at Ventura County Medical Center in 2014, later advancing to Associate Program Director.  He became Addiction Medicine Board Certified 2 years ago following completion of the Addiction Medicine Practice Pathway.  He assisted with the formation of the Primary Care Addiction Medicine Fellowship at VCMC and continues as faculty.  Dr. Zwolak has practiced addiction medicine at several residental treatment centers in Ventura County.  He is passionate for teaching addiction medicine, caring for pregnant women using substances and the underserved suffering with addiction.  
No relevant financial relationships to disclose.
PHYSICIANS: The California Society of Addiction Medicine (CSAM) is accredited by the California Medical Association to provide continuing medical education for physicians.  CSAM takes responsibility for the content, quality and scientific integrity of this CME activity.
CSAM designates this educational activity/enduring material for a maximum of 10 AMA/PRA Category 1 Credits™. (Physicians should only claim credit commensurate with the extent of their participation in the activity.) This credit may also be applied to the CMA Certification in Continuing Medical Education.
NON-PHYSICIANS: The California Society of Addiction Medicine (CSAM) provides a certificate of attendance for this online course based upon the number of hours you participated, up to maximum of 10. 
Available Credit
10.00

AMA Category 1

10.00

Attendance