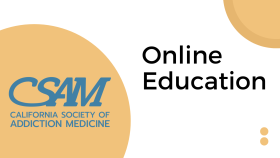 Evaluations of Health Professionals: What Addiction Medicine Specialists Should Know
This presentation will enhance your ability to effectively evaluate health professionals, and to make accurate diagnoses and recommendations congruent with administrative needs. When an evaluation of a health care professional is required, who does it and what does it include? Learn from the attorneys who represent  physicians, from hospital medical staff wellbeing committees and MECs, and from those who specialize in physician fitness for duty evaluations and standards for associated reports. If you order evaluations of health care professionals, conduct evaluations, and submit reports, interpret and use the report, or are an attorney who represents any of those persons/agencies, this workshop is for you.
PRICE: $125 (Members) | $225 (Non-Members)
Target Audience
This activity is designed for health care professionals that complete evaluations or have an interest in the methods of evaluating a health professional. 
Learning Objectives
After participating in this workshop, the registrants should be able to:
List the components necessary for a thorough evaluation of a physician.
Describe the difference between an evaluation for the MBC and an one for a medical staff or medical group.
Explain why comprehensive evaluations are important.
List the important drug/alcohol tests that should be included in almost every evaluation.
Describe the important records that should be reviewed when evaluating a physician for DUI.
Discuss what information can legally be obtained prior to evaluating a physician.
Explain the difference between a forensic and clinical evaluation.
Explain what to do if the physician being evaluated refuses to sign consents to speak with the referring agency.
Discuss the pros and cons of having the physician evaluated review your report prior to completing your report.
Decide whether they would like to participate as an evaluator for the Medical Board of California.
Explain why most PHPs in the USA refer physicians to a multidisciplinary team for evaluation.
Gregory Abrams, JD
Attorney at Law
Greg Abrams is a solo practice attorney representing hospital medical staffs in all aspects of their operations, and physicians and other health care providers in peer review and state licensing board matters. Mr. Abrams served as legal counsel for the California Medical Association for nearly fifteen years, and was General Counsel for CMA's former quality and accreditation subsidiary, the Institute for Medical Quality.  At CMA, Mr. Abrams worked on a variety of issues affecting physicians including medical staff and peer review-related issues; well-being committee, disruptive behavior and impaired physician issues; Medical Board issues regarding physician discipline and unprofessional conduct; matters related to professional liability and California's Medical Injury Compensation Reform Act of 1975; physician reporting and warning requirements; and the HIPAA Privacy Rule, among other things.  He was also a co-author for fourteen annual revisions of CMA's seven-volume treatise on California health law, the California Physician's Legal Handbook. Mr. Abrams received his Juris Doctor degree from the University of California Hastings College of the Law in San Francisco.  He is Past-President of the American Society of Medical Association Counsel, comprised of attorneys who work with and represent medical associations and specialty societies across the country; Past President of the California Academy of Attorneys for Health Care Professionals, a private practice attorney group focused on health care provider issues involving peer review and licensing agency discipline; and is a past member of the board of the California Society for Healthcare Attorneys.
Matt Goldenberg, DO
General and Addiction Psychiatrist
Private Practice
Matthew Goldenberg, DO is double Board Certified in Psychiatry and Addiction Psychiatry and is a certified Medical Review Officer (MRO). Dr. Goldenberg is an expert in the evaluation and treatment of mental health disorders and is an addiction specialist for adults in his private practice in Santa Monica, California. In addition to his private practice, Dr. Goldenberg provides addiction psychiatry consultations to selected residential and outpatient addiction and mental health treatment programs. Dr. Goldenberg is a HIMS trained psychiatrist, providing evaluations of pilots and air traffic controllers for the Federal Aviation Administration (FAA). He is also well experienced in providing mental health and substance use disorder evaluations and expert testimony for healthcare providers who are engaged in administrative and legal proceedings. Dr. Goldenberg is also an active author, researcher and invited speaker at local and national conferences. He also volunteers his time as a Clinical Instructor in the Department of Psychiatry at UCLA. Dr. Goldenberg is the current president-elect of the Southern California Psychiatric Society (SCPS), the Chairman of the Board of California Public Protection and Physician Health (CPPPH) and is an active member of the CSAM Physician Wellbeing Committee.
David Granovetter, MD
Dr. Granovetter received his BA in Physics from Rutgers University, New Brunswick, NJ and MD from Yale University Medical School. He completed his Internal Medicine Residency at North Carolina Memorial Hospital, Chapel Hill, NC and a fellowship in Rheumatology, Allergy and Immunology at Boston University. Following ten years of group practice in Raleigh NC, Dr. Granovetter moved to The Permanente Medical Group at the San Jose Medical Center, initially as a Rheumatologist and after 14 years, transitioning to Addiction Medicine. His specialty board certifications are in Internal Medicine, Rheumatology, Allergy and Clinical Immunology, and Addiction Medicine. Dr. Granovetter has worked in Physician Well-Being for the past 18 years, as chair of the Kaiser San Jose Medical Center Well-Being Committee for 16 years and Regional Chair of Well-Being for The Permanente Medical Group for the past 3 years. 
Gregory Skipper, MD
Senior Advisor,
Center for Professional Recovery, Malibu CA
Distinguished Fellow, American Society of Addiction Medicine
Dr. Skipper has devoted his career to assisting professionals in crisis. He has worked extensively with State Regulatory Boards in the United States and abroad and published over 100 articles and papers regarding professional impairment. Dr. Skipper is currently Senior Advisor of the Center for Professional Recovery in Malibu, CA where he has participated in evaluating and treating over 800 health professionals since 2011. He was Medical Director of the Alabama Physician Health Program for 12 years from 1999-2011and the Medical Director of Hazelden Springbrook in Oregon from 1993-1999. Dr. Skipper was the innovator and initial researcher of ethylglucuronide (EtG) testing in the United States and has served as an expert in drug testing and alcohol markers for criminal, civil and family courts, in administrative hearings, for Medical as well as Aviation Medicine. Dr. Skipper is a consultant to the Federal Aviation Administration regarding airline pilots in recovery from sub-stance use disorders. He was a member of the National Advisory Council for the Substance Abuse and Mental Health Services Administration (SAMHSA) from 2002 – 2008. Dr. Skipper is a speaker regarding professional impairment and is a founder and faculty for the PBI Medical Ethics and Professionalism Course, sponsored by the Univ of California Irvine (a program for remedial training in ethics for disciplined licensees by regulatory boards in the USA). 
Moderated By:
David Kan, MD, DFASAM
Private Practice of Psychiatry, Addiction Psychiatry and Forensic Psychiatry
Chief Medical Officer, Bright Heart Health
Dr. David Kan is Chief Medical Officer of Bright Heart Health, the first of its kind addiction telehealth treatment program. Dr. Kan is also a psychiatrist in private practice in addiction, forensic and general psychiatry. Dr. Kan is the President of CSAM and the chair of the physician well-being committee. Dr. Kan has served CSAM as a member of the Board of Directors since 2011. Dr. Kan is active in political advocacy on behalf of all of our patients.
PHYSICIANS: The California Society of Addiction Medicine (CSAM) is accredited by the California Medical Association to provide continuing medical education for physicians.  CSAM takes responsibility for the content, quality and scientific integrity of this CME activity.
CSAM designates this educational activity/enduring material for a maximum of 3 AMA/PRA Category 1 Credits™. (Physicians should only claim credit commensurate with the extent of their participation in the activity.) This credit may also be applied to the CMA Certification in Continuing Medical Education.
NON-PHYSICIANS: The California Society of Addiction Medicine (CSAM) provides a certificate of attendance for this online course based upon the number of hours you participated, up to maximum of 3. 
DISCLOSURE OF FINANCIAL RELATIONSHIPS
In accordance with the ACCME Standards for Integrity and Independence, CSAM adheres to guidelines and processes to identify and mitigate relevant financial relationships for all individuals in a position to control the content of this activity. Unless otherwise noted, faculty did not have any relevant financial relationships with ineligible companies, as defined by ACCME, within the past 24 months. All relevant financial relationships have been mitigated.
Available Credit
3.00

AMA Category 1

3.00

Attendance