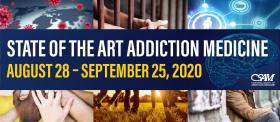 Inpatient Management of Alcohol Withdrawal with Benzodiazepine-Sparing Protocols: Academic Studies and Real World Outcomes
This presentation is part of the 2020 State of the Art in Addiction Medicine conference which covers an expansion of treatment into correctional health, hospital consultation services and emergency rooms. It will cover how, despite the pandemic, telehealth can reach those who are isolated. It will address the worrisome trends in fentanyl, methamphetamine, tobacco and benzodiazepines use; legalization of cannabis, treatment updates for youth, cannabis and alcohol in pregnant women; and novel treatments such as non-benzodiazepines for alcohol withdrawal and psychedelics for substance use disorders.  

Learners cannot sign up for individual lectures, only for the full 2020 State of the Art in Addiction Medicine. Please contact CSAM (csam@csam-asam.org) if you have any questions about this online educational offering. 
Target Audience
Addiction medicine specialists who want an overview of the latest developments in the field and their relevance to clinical practice
Primary care, psychiatry and other specialty field clinicians who want a better understanding of addiction and to improve their care of patients with unhealthy substance use
Public policy makers, administrators and advocates who want an understanding of the current state of the field of addiction and its grater implications including towards prevention, access to care, integrated systems of care and healthcare technology
Other healthcare professionals, including psychologists, therapists, nurses, and addiction counselors, who are involved in the treatment of patients with or at risk of substance use
Learning Objectives
Understand risks of excess benzodiazepine in the treamtent of alcohol withdrawal.
Learn to utilize alternate agents such as alpha agonists and anticonvulsants in the treatment of alcohol withdrawal. Understand factors in selection of which agents to utilize.
Learn large population outcomes of implementation of benzodiazepine-sparing treatments of alcohol withdrawal in an Order Set in a large health care system.
Become familiar with the use of assessment tools to identify patients at risk for complicated alcohol withdrawal syndromes
Jose R. Maldonado, MD
Dr. Maldonado is Medical Director of Psychosomatic Medicine and Chief of Psychiatric Emergency Services and Transplant Psychiatry at Stanford University Medical Center. He is board certified in Adult Psychiatry, Psychosomatic Medicine, Forensic Psychiatry, Addiction Medicine, and Forensic Medicine. 

His research lab developed the Stanford Integrated Psychosocial Assessment for Transplantation (SIPAT) a tool created to assess the psychosocial candidacy of organ transplant and ventricular assisted devices (VADs) candidates. In addition, his research has led the field of Psychosomatic Medicine with the development of tools for the prediction and assessment of various neuropsychiatric disorders; including the development of a new tool for the timely and accurate diagnosis of delirium: the Stanford Proxy Test of Delirium (S-PTD); the Stanford Algorithm for Predicting Delirium (SAPD), a tool to help predict patients at risk for developing delirium; and the Prediction of Alcohol Withdrawal Severity Scale (PAWSS). He has developed management protocols and algorithms for the prevention and treatment of delirium; as well as novel pharmacological techniques (benzodiazepine-sparing protocol) for the prophylaxis and treatment of complicated alcohol withdrawal syndromes. 

Dr Maldonado has been the recipient of multiple awards and recognitions, the most recent includle: the 2017 – Franz-Köhler-Inflammation-Award from the German Society of Anesthesiology and Intensive Care Medicine (DGAI) for extraordinary achievements in research on inflammation and its relationship to the pathophysiology of delirium; and the 2018 – Eleanor and Thomas P. Hackett Memorial Award by the Academy of Consultation-Liaison Psychiatry, the Academy's highest honor, for distinctive achievements in CLP training, research, clinical practice, and leadership.
DISCLOSURE: No relevant financial relationships to disclose

Mary Sage, MD
I was born & raised here in Northern California. I completed undergraduate education at Cal, medical school at NY Medical College, medical internship at Kaiser-SF, and residency in Psychiatry at Stanford. My primary board is Psychiatry. My subspecialty boards are Consultation-Liaison Psychiatry, Addiction Medicine, and Brain Injury Medicine. 

My professional passion is acute med-psych care. I previously worked in Kaiser's addiction clinic in Oakland, which helped prepare me for my current role. I work as a consultation-liaison psychiatrist at the community Kaiser medical hospital in Walnut Creek. 
In the acute medical setting, addiction is commonly an underlying issue, and medical complications of addiction are commonplace. Despite the prevalence of addiction in the hospital, many hospital-based physicians are unfamiliar with addiction as an illness or with treatment of many addiction-related syndromes like withdrawal. 

Kaiser's previous Epic Order Set for treatment of alcohol withdrawal in the ICU or on hospital wards utilized high levels of benzodiazepine. At my hospital, intensivists recognized that care of alcohol withdrawal in the ICU could be improved upon. A multidisciplinary physician group developed and piloted evidence-based alternate protocols for management of alcohol withdrawal in the ICU. At another Kaiser hospital, another multidisciplinary physician group piloted a similar protocol for alcohol withdrawal management on the hospital wards. The dramatic improvements with these pilots led to a multidisciplinary regional physician group revision of the previous Order Set, which took several years to complete. The large-scale outcomes with the regional revision of the Order Set will be discussed today.
DISCLOSURE: No relevant financial relationships to disclose
CSAM 
The California Society of Addiction Medicine (CSAM) is accredited by the California Medical Association to provide continuing medical education for physicians. CSAM takes responsibility for the content, quality and scientific integrity of this CME activity.
CSAM designates this live educational activity for a maximum of 1 AMA PRA Category 1 Credits™, Physicians should only claim credit commensurate with the extent of their participation in the activity. 
Continuing education credit is available for psychologists, therapists, substance use counselors, nurses and physician assistants.
(see additional information on page for parent course)
Available Credit
1.00

AMA Category 1

1.00

Attendance