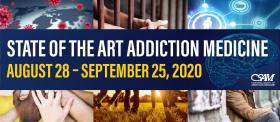 State of the Art in Addiction Medicine (2020)
CSAM State of the Art brings together national experts to share frontiers of research, treatments, and policies in the field of Addiction Medicine. This year we do so under the overarching theme of Frontiers of Access to Care. In this year of the coronavirus pandemic and the growing Black Lives Matter movement, a brighter light has been shone on the disparities of health and access to healthcare. This inequity extends to individuals with substance use disorders, and especially those of color, who are more likely to be incarcerated and less likely to receive treatment. Our conference will cover expansion of treatment into correctional health, hospital consultation services, emergency rooms, and even across the Border. It will cover how, despite the pandemic, telehealth can reach those who are isolated. It will address the worrisome trends in fentanyl, methamphetamine, tobacco and benzodiazepines use; legalization of cannabis, treatment updates for youth, cannabis and alcohol in pregnant women; and novel treatments such as non-benzodiazepines for alcohol withdrawal and psychedelics for substance use disorders. Difficult times will continue, for our patients, our Addiction Medicine community, our country, and the world. Please look forward to being inspired by this year's conference for how we can each rise to the challenge of providing both state of the art and equitable care to all in need.
The activity consists of 22 lectures presented live virtually on September 22 - September 25, 2020.
PRICE/PURCHASE -- $345 MEMBERS | $495 NON-MEMBERS
You must sign in or register on this site before purchasing using the link on the upper right corner of this page. Only after registering will you see the "Add to Cart" button. 

You will be able to work through the lectures in any order. In order to get credit, you must complete all of the lectures.
Target Audience
Addiction medicine specialists who want an overview of the latest developments in the field and their relevance to clinical practice
Primary care, psychiatry and other specialty field clinicians who want a better understanding of addiction and to improve their care of patients with unhealthy substance use
Public policy makers, administrators and advocates who want an understanding of the current state of the field of addiction and its grater implications including towards prevention, access to care, integrated systems of care and healthcare technology
Other healthcare professionals, including psychologists, therapists, nurses, and addiction counselors, who are involved in the treatment of patients with or at risk of substance use
Learning Objectives
At the end of this Conference, attendees should be able to:
Compare new approaches, including international models, to integrating state of the art addiction medicine into clinics, hospitals, correctional health, and other settings
Apply understanding of the consequences of adverse childhood events using therapeutic techniques to integrate treatment of trauma and addiction
Increase awareness of the stigma of addiction and disparities of access to treatment, and how to effectively advocate for equity
Appraise the current trends in substance use and associated risks, treatments, and policies
The following lectures make up the 2020 State of the Art Addiction Medicine Plenary
 
California Surgeon General's Reflections: Impact of Adverse Childhood Events (ACEs) on Health | Nadine Burke Harris, MD, MPH, FAAP
ACE Study Principal Investigator: Adverse Childhood Events Impact on Adult Health and Addiction Risks | Vincent Felitti, MD
Hidden in Plain Sight: Psychotherapeutic of Trauma & Addiction | Sharone Abramowitz, MD, FASAM, FAIHM
The Road to Recovery and Treating Addiction in Prison: The Integrated Substance Use Disorder Treatment Program | Renee Kanan, MD | Eric Hargis, DO
Losing Your "License to Drink": Evidence on 24/7 Sobriety Programs | Beau Kilmer, MD
Rise of Benzodiazepines: Dangers and Answers | Chris Blazes, MD
Inpatient Management of Alcohol Withdrawal with Benzodiazepine-Sparing Protocols: Academic Studies and Real World Outcomes | Jose Maldonado, MD | Mary Sage, MD
Rise of Methamphetamine: New Risks, Current Treatment | Rick Rawson, PhD
Rise of Fentanyl: New Risks, Current Treatments | Daniel Ciccarone, MD, MPH
E-Cigarettes & Heated Tobacco Products: Harm Reducers or Youth Seducers? | Robert Anthenelli, MD
Cannabis Legalization: What Does it Mean for Public Health & Social Equity? | Beau Kilmer, PhD
Cannabis and Alcohol During Pregnancy: From Medical & Ethical Considerations to State level Policies and Patients Perspectives | Katie Woodruff, DrPH | Tricia Wright, MD | Meenakshi Subbaraman, PhD
Update on Adolescent Addiction Medicine | Lisa Fortuna, MD
Simplifying Treatment of Pain and Opioid Use Disorder: Transitioning with Microdoses of Buprenorphine | Tauheed, Zaman, MD
Extending Treatment: Injectable Long-Acting Buprenorphine | Andrew Herring, MD
Long Acting Opioids Aren't: And Other Lessons Learned About Chronic Pain Management | Andrea Rubenstein, MD
Beyond Opioids and NSAIDS: Evidence-Based Integrative Approaches to Chronic Pain | Marni Hillinger, MD
Deportations Sending Addiction over the Border? Treating Drug Use in Tijuana | Patricia Zuniga, MD
Ideology vs. Information in the International War on Drugs: From Criminal Justice to Public Health Models | Peter Banys, MD
Telemedicine and Access to Care in the Times of COVID-19 | David Kan, MD
Integrating Addictions Care Into General Hospitals: Engaging People and Changing Systems | Honora Englander, MD
Psychedelics for Substance Use Disorders | Jennifer Mitchell, PhD
Conference Planning Committee
Cynthia Chatterjee, MD, MA, FASAM (Chair)
Sharone Abramowitz, MD, FASAM, FAIHM (Vice Chair)
Belis Aladag, MD, MPH, FASAM
Murtuza Ghadiali, MD
Dana Harris, MD, FASAM
Mitika Kanabar, MD, MPH
Lori Karan, MD, DFASAM, FACP
Jessica Ristau, MD
Joe Sepulveda, MD, FAPA, FASAM
Scott Steiger, MD, FASAM
Takeo Toyoshima, MD
Farah Zaidi, MD
Kenneth Saffier, MD, FASAM (MERF Rrepresentative)
Jean Marsters, MD (Chair, CSAM Education Committee)
Speakers
Sharone A. Abramowitz, MD, FASAM, FAIHM: Integrative Psychiatry & Addiction Medicine Practice: S.F. & East Bay; Motivational Interviewing trainer
Robert M. Anthenelli, MD: Professor of Psychiatry and Director, Pacific Treatment & Research Center at UC San Diego
Peter Banys, MD, MSc: Clinical Professor of Psychiatry
Christopher Blazes, MD: Director of Addiction Psychiatry Fellowship OHSU
Nadine Burke Harris, MD, MPH, FAAP: California Surgeon General
Daniel Ciccarone, MD, MPH: Professor of Family and Community Medicine
Honora Englander, MD: Associate Professor of Medicine
Vincent J. Felitti, MD: Clinical Professor of Medicine, University of California
Lisa R. Fortuna, MD: Associate Professor and Vice Chair of Psychiatry and Behavioral Sciences
Eric Hargis, DO: Physician & Surgeon, California Correctional Health Care Services
Andrew A. Herring, MD: Associate Research Director
Marni Hillinger, MD
David Kan, MD, DFASAM: Private Practice of Psychiatry, Addiction Psychiatry and Forensic Psychiatry, Chief Medical Officer, Bright Heart Health
Renee Kanan, MD: Deputy Director, Medical Services, CDCR/CCHCS
Beau Kilmer, PhD: Director, RAND Drug Policy Research Center
Jose R. Maldonado, MD: Chief, Psychiatry Consult Service & Emergency Psychiatry Program
Jennifer Mitchell, PhD: Deputy Associate Chief of Staff for Research and Development, VAMCSFAssociate Professor, Departments of Neurology and Psychiatry
Richard Rawson, PhD: Research Professor/Professor Emeritus U of Vermont/UCLA Brandon, Vermont
Andrea L. Rubinstein, MD: Chief, Department of Pain Medicine
Kenneth Saffier, MD, FASAM: Family and Addiction Medicine, Lead Physician, Choosing Change Program
Mary Sage, MD: Psychiatrist, Consultation-Liaison Service
Meenakshi S. Subbaraman, PhD: Biostatistician, Director of Statistical and Data Services
Katie Woodruff, DrPH: Social Science Fellow in Reproductive and Maternal Health
Tricia E. Wright, MD: Professor Obstetrics, Gynecology & Reproductive Sciences
Tauheed Zaman, MD: Director, Addiction Consult and Opioid Safety
Patricia E. Zuniga, MD: Medical Director and Founder
CREDIT
CSAM 
The California Society of Addiction Medicine (CSAM) is accredited by the California Medical Association to provide continuing medical education for physicians. CSAM takes responsibility for the content, quality and scientific integrity of this CME activity.
CSAM designates this live educational activity for a maximum of 17.25 AMA PRA Category 1 Credits™, Physicians should only claim credit commensurate with the extent of their participation in the activity. 
Continuing education credit is available for psychologists, therapists, substance use counselors, nurses and physician assistants.
MAINTENANCE OF CERTIFICATION (MOC)
ABPM
The American Board of Preventive Medicine (ABPM) has approved this activity for a maximum of 16.25 LLSA credits towards ABPM MOC Part II requirements.
Should you need a copy of your ABPM MOC certificate, please inquire via email at csam@csam-asam.org.
Users are responsible for reporting CME credits directly to ABPM. 

ABAM
This course has been approved by the American Board of Addiction Medicine (ABAM). Physicians enrolled in the ABAM Transitional Maintenance of Certification (tMOC) Program can apply a maximum of 16.25 AMA PRA Category 1 Credits™ for completing the CSAM Addiction Medicine Review Course.
Users are responsible for reporting CME credits directly to ABAM. 

ABIM
Successful completion of this CME activity, which includes participation in the evaluation component, enables the participant to earn up to 16.25 MOC points in the American Board of Internal Medicine's (ABIM) Maintenance of Certification (MOC) program. Participants will earn MOC points equivalent to the amount of CME credits claimed for the activity. It is the CME activity provider's responsibility to submit participant completion information to ACCME for the purpose of granting ABIM MOC credit.
CSAM will report your participation to ABIM at the end of the year.
Should you have any questions or need a copy of your MOC certificate, please use the 'Contact Us' tab to submit your inquiry, thank you.
Available Credit
17.25

AMA Category 1

17.25

Attendance