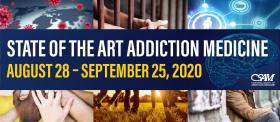 Ideology vs. Information in the International War on Drugs: From Criminal Justice to Public Health Models | Peter Banys, MD
This presentation is part of the 2020 State of the Art in Addiction Medicine conference which covers an expansion of treatment into correctional health, hospital consultation services and emergency rooms. It will cover how, despite the pandemic, telehealth can reach those who are isolated. It will address the worrisome trends in fentanyl, methamphetamine, tobacco and benzodiazepines use; legalization of cannabis, treatment updates for youth, cannabis and alcohol in pregnant women; and novel treatments such as non-benzodiazepines for alcohol withdrawal and psychedelics for substance use disorders.  

Learners cannot sign up for individual lectures, only for the full 2020 State of the Art in Addiction Medicine. Please contact CSAM (csam@csam-asam.org) if you have any questions about this online educational offering. 
Target Audience
Addiction medicine specialists who want an overview of the latest developments in the field and their relevance to clinical practice
Primary care, psychiatry and other specialty field clinicians who want a better understanding of addiction and to improve their care of patients with unhealthy substance use
Public policy makers, administrators and advocates who want an understanding of the current state of the field of addiction and its grater implications including towards prevention, access to care, integrated systems of care and healthcare technology
Other healthcare professionals, including psychologists, therapists, nurses, and addiction counselors, who are involved in the treatment of patients with or at risk of substance use
Learning Objectives
After attending this presentation, participants will be able to: 1. Understand that the Criminal Justice System and the Healthcare System are vast industries in a direct competition for the raw materials needed (drug users) for processing to their end products -- public safety and public health.
2. Understand the difference between compulsory (detention-based) treatment and coerced treatment (drug courts, family pressure).
3. Understand the concept of decriminalized "personal possession amounts" of otherwise illegal drugs.
Peter Banys, MD, MSc
Peter Banys, M.D., M.Sc. is a Clinical Professor of Psychiatry at UCSF. Over 33+ years, he developed the VA Addiction Medicine and UCSF Addiction Psychiatry Fellowships, and published on disulfiram, methadone treatment, alcoholism treatment, dual-diagnosis and marijuana legalization. 

He is Past-President of CSAM. He is again a section editor (Special Problems) for the 2020 edition of the ASAM Textbook of Addiction Medicine. 

With Timmen Cermak, MD, he was the co-author of Youth First, a 2010 CSAM white paper advocating use of marijuana tax revenues to benefit student assistance programs and youth treatment. With Tim, he was a member of Lt. Governor Gavin Newsom's Blue Ribbon Commission on Marijuana Policy. 

Work in Vietnam: He has spent 2½ years living and working in Hanoi as a Technical Advisor for an FHI360 and the government to develop MMT programs and promote voluntary care. 

Work in the Philippines: After President Duterte was elected President of the Philippines in July 2016, WHO and the Philippines' DoH requested Dr. Banys' assistance in developing voluntary programs. Six model recovery clinics have been opened. 

He was a National Merit Scholar at Harvard and an English Speaking Union Scholar at the LSE in London. He obtained his MD Degree from CWRU and completed psychiatry training at Mt. Zion in San Francisco. 

Dr. Banys is a recipient of the Vernelle Fox Award for excellence in physician teaching, the Federal Employee of the Year Award in the Professional Category, and, since 1994, has been listed in Woodward-White's Best Doctors in America. 
DISCLOSURE: No relevant financial relationships to disclose
CSAM 
The California Society of Addiction Medicine (CSAM) is accredited by the California Medical Association to provide continuing medical education for physicians. CSAM takes responsibility for the content, quality and scientific integrity of this CME activity.
CSAM designates this live educational activity for a maximum of 0.75 AMA PRA Category 1 Credits™, Physicians should only claim credit commensurate with the extent of their participation in the activity. 
Continuing education credit is available for psychologists, therapists, substance use counselors, nurses and physician assistants.
(see additional information on page for parent course)
Available Credit
0.75

AMA Category 1

0.75

Attendance