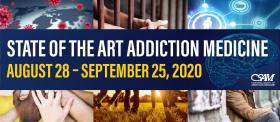 Cannabis and Alcohol During Pregnancy: From Medical & Ethical Considerations to State level Policies and Patients Perspectives
This presentation is part of the 2020 State of the Art in Addiction Medicine conference which covers an expansion of treatment into correctional health, hospital consultation services and emergency rooms. It will cover how, despite the pandemic, telehealth can reach those who are isolated. It will address the worrisome trends in fentanyl, methamphetamine, tobacco and benzodiazepines use; legalization of cannabis, treatment updates for youth, cannabis and alcohol in pregnant women; and novel treatments such as non-benzodiazepines for alcohol withdrawal and psychedelics for substance use disorders.  

Learners cannot sign up for individual lectures, only for the full 2020 State of the Art in Addiction Medicine. Please contact CSAM (csam@csam-asam.org) if you have any questions about this online educational offering. 
Target Audience
Addiction medicine specialists who want an overview of the latest developments in the field and their relevance to clinical practice
Primary care, psychiatry and other specialty field clinicians who want a better understanding of addiction and to improve their care of patients with unhealthy substance use
Public policy makers, administrators and advocates who want an understanding of the current state of the field of addiction and its grater implications including towards prevention, access to care, integrated systems of care and healthcare technology
Other healthcare professionals, including psychologists, therapists, nurses, and addiction counselors, who are involved in the treatment of patients with or at risk of substance use
Learning Objectives
Understand the current evidence on prevalence and outcomes of cannabis use in pregnancy
Name three reasons why pregnant patients who use cannabis often do not disclose their use to prenatal care providers
Describe and critique three messages prenatal care providers give patients about cannabis use in pregnancy
Demonstrate how alcohol damages the developing fetus
Explore how stigma and discrimination against pregnant women with SUD worsens clinical outcomes
Katie Woodruff, DrPH
Katie Woodruff, DrPH, is a Social Science Fellow in Reproductive and Maternal Health in the Dept. of Obstetrics, Gynecology, and Reproductive Sciences at UC San Francisco. Her research explores the intersection of public discourse and public policy related to maternal and reproductive health in the U.S. She conducts qualitative and mixed methods studies on abortion and contraception, alcohol and drug use in pregnancy, and the role of evidence in health policymaking. She aims to conduct research to inform and improve the policies that shape and limit reproductive, maternal, and familial health and wellbeing. 
Dr. Woodruff's previous work includes an original qualitative exploration of how legislators in selected U.S. states use scientific evidence when making policy decisions on substance use in pregnancy and abortion. She has also studied how the news media frame reproductive health issues, conducting ethnographic content analyses of news coverage of abortion and emergency contraception, among other public health topics. Currently at ANSIRH she is studying how pregnant people who use cannabis make decisions about cannabis use during pregnancy, and investigating how state health departments use evidence when setting and implementing abortion facility regulations. Dr. Woodruff received her BA from Brown University and her MPH and DrPH from the University of California, Berkeley School of Public Health.
DISCLOSURE: No relevant financial relationships to disclose
Meenakshi Sabina Subbaraman, PhD
Meenakshi Sabina Subbaraman, PhD, is a Biostatistician and Director of Statistical and Data Services at the Public Health Institute's Alcohol Research Group. Her primary research interests are statistical methods for understanding causal mechanisms, treatment and recovery from substance use disorders, and how drug and alcohol policies affect substance use and related health outcomes. Dr. Subbaraman's current work focuses on cannabis and alcohol co-use, substitution of cannabis and alcohol, and the impacts of alcohol and cannabis availability and taxes.

DISCLOSURE: No relevant financial relationships to disclose
Tricia E. Wright, MD
Tricia Wright, MD MS is a Professor of Clinical Medicine in the Department of Obstetrics, Gynecology and Reproductive Health at the University of California, San Francisco. Previously she was at the University of Hawaii and founded the Path Clinic, a perinatal clinic specializing in the care of pregnant and parenting women with Substance Use Disorders. She is board certified in both Obstetrics and Gynecology and Addiction Medicine and a Fellow of the American College of Obstetrics and Gynecology and a Distinguished Fellow of the American Society of Addiction Medicine. She has published multiple papers on pregnancy and addiction as well as a textbook Opioid Use Disorders in Pregnancy published in 2018 by Cambridge University Press. 

Dr. Wright completed her undergraduate degree in Biological Sciences from Stanford University, her MD from the University of Michigan. She completed her residency in Obstetrics and Gynecology from the University of New Mexico and obtained a Master's Degree in Clinical Research from the University of Hawai'i. 
DISCLOSURE: Dr. Wright disclosed that she received consulting fees from McKesson
CSAM 
The California Society of Addiction Medicine (CSAM) is accredited by the California Medical Association to provide continuing medical education for physicians. CSAM takes responsibility for the content, quality and scientific integrity of this CME activity.
CSAM designates this live educational activity for a maximum of 1.25 AMA PRA Category 1 Credits™, Physicians should only claim credit commensurate with the extent of their participation in the activity. 
Continuing education credit is available for psychologists, therapists, substance use counselors, nurses and physician assistants.
(see additional information on page for parent course)
Available Credit
1.25

AMA Category 1

1.25

Attendance