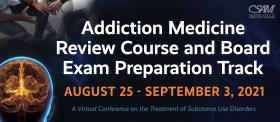 Updates in Medications for Opioids Use Disorder (2021)
This virtual workshop, part of the 2021 Addiction Medicine Review Course and Board Exam Preparation Track, will focus on the latest topics on pharmacology for (OUD). The selected topics will update workshop participants on cutting edge considerations for their practice. Participants should include buprenorphine prescribers and/or prescribers working in Opioid Treatment programs. Dr. Soraya Azari will be presenting on the latest long-acting injectable buprenorphine products for OUD. Dr. Chris Blazes will discuss the controversy and lend a critical eye to necessity of naloxone in buprenorphine-naloxone combinations. There is evidence that naloxone combination is unnecessary for buprenorphine and naloxone administration in bup-nlx has an increased risk of fatal OD death after treatment discontinuation. Dr. Tauheed Zaman would present the latest on micro-dosing buprenorphine for withdrawal reducing induction protocols. There will be a more detailed investigation of fentanyl-related inductions. Dr. Jack McCarthy will present his groundbreaking work on looking at methadone to metabolite ratios in determining metabolism rate with one blood draw shortly after induction. The workshop will be presented in mixed-format with didactics and case based discussions.
PRICE/PURCHASE -- $125 (CSAM/ASAM MEMBERS); $250 (NON-MEMBERS)
You must sign in or register on this site before purchasing using the link on the upper right corner of this page. Only after registering will you see the "Add to Cart" button. 

To purchase, click on the course (you do not need to select each lecture). After you have selected it, scroll to the bottom of the page and click "Add to Cart." 

You will be able to work through the lectures in any order by clicking on the lecture in the table below. You may print out a CME certificate or transcript of your cumulative credits at any time.
Target Audience
Physicians practicing addiction medicine who want a deeper understanding of medications for Opioid Use Disorder.
Clinicians working with patients with Opioid Use Disorder.
Reconsidering the Usefulness of Adding Naloxone to Buprenorphine | Christopher Blazes, MD
Long-Acting Injectable Buprenorphine: Pearls and Updates on Usage | Soraya Azari, MD
Buprenorphine Microdosing | Tauheed Zaman, MD
The Methadone/Metabolite Ratio (MMR): Therapeutic Drug Monitoring to Improve Methadone Outcomes | John McCarthy, MD
Soraya Azari, MD
Dr. Azari completed her undergraduate and medical school training on the East coast and returned to California for residency at UCSF in the San Francisco General Primary Care (SFPC) program. She completed a Chief Residency year at San Francisco General Hospital and is currently a Clinician Educator based at Zuckerberg San Francisco General. She has worked in resident education, serving as an Associate Program Director, and then Interim Program Director for the SFPC Track and recently transitioned to serving as the Associate Program Director for the Primary Care Addiction Fellowship program at San Francisco General Hospital. She is board certified in Internal Medicine and Addiction Medicine.
No relevant financial relationships to disclose.
Christopher Blazes, MD
Dr. Blazes is Assistant Professor of Psychiatry and Emergency Medicine at OHSU. He is triple board-certified in psychiatry, addiction psychiatry, and emergency medicine and is the director of the OHSU addiction psychiatry Fellowship. Dr Blazes is a clinician educator whose practice is based out of the Portland VA Medical Center. He lectures widely and publishes on such topics as benzodiazepines, synthetic fentanyl analogues, buprenorphine, and the neurobiology of addiction and recovery.
No relevant financial relationships to disclose.
David Kan, MD
Dr. Kan graduated from Northwestern University Medical School. He finished his General Psychiatry Residency and Forensic Psychiatry Fellowship at the University of California, San Francisco (UCSF). He is Board-certified by the American Board of Psychiatry and Neurology in General and Forensic Psychiatry and he is Board-Certified by the American Board of Addiction Medicine in Addiction Medicine. He is a member of the faculty at the UCSF Department of Psychiatry.
No relevant financial relationships to disclose.
Jack McCarthy, MD
Dr. McCarthy was Executive/Medical of Bi-Valley Medical Clinic Opioid Treatment Program from 1980-2015. He has been on the teaching faculty in the Department of Psychiatry at University of California, Davis since 1980. His research interests are in methadone treatment and pregnancy. Since retirement from clinical practice in 2015, he has co-authored a number of publications on methadone metabolism and on opioid dependence in pregnancy. He is a member of the CSAM Committee on Opioids and of the ASAM Women's Action Group.
No relevant financial relationships to disclose.
Tauheed Zaman, MD
Dr. Zaman is a Medical Director at the San Francisco VA Medical Center, CA. He has developed workshops on behavioral addictions, performance-enhancing drugs and models of integrated psychiatric/primary care for APA and Institute on Psychiatric Services (IPS) annual meetings. He has also advocated in Washington, DC, for funding of residency training and mental health services for veterans. 
No relevant financial relationships to disclose.

 
The California Society of Addiction Medicine (CSAM) is accredited by the California Medical Association to provide continuing medical education for physicians. CSAM takes responsibility for the content, quality and scientific integrity of this CME activity.
CSAM designates this virtual educational activity for a maximum of 3.5 AMA PRA Category 1 Credits™, Physicians should only claim credit commensurate with the extent of their participation in the activity. 
Continuing education credit is available for psychologists, therapists, substance use counselors, nurses and physician assistants.
Available Credit
3.50

AMA Category 1

3.50

Attendance