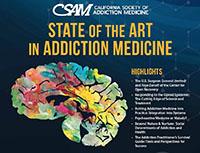 State of the Art in Addiction Medicine (2018)
We live in a historically unprecedented time. Annual drug overdose deaths in the U.S. have surpassed the number of AIDS deaths at the height of the HIV epidemic in 1995. Deaths continue to climb, and the current opioid epidemic has been called this generation's AIDS crisis. While not all substances are harmful, unhealthy substance use, its complications, and associated stigma are far too common. Evidence-based treatment, policy, and prevention are urgently needed. Compassion and the development of a qualified addiction medicine workforce remains in high demand. The 2018 CSAM State of the Art Conference provides this year's attendees with a sampling of the latest scientific advances in the fi eld of addiction medicine and their relevance to everyday clinical practice. Over three days, nationally recognized experts presented on a wide range of topics. Whether you are expanding your knowledge about new advances in addiction science and practice, consolidating your skills in the care of persons with unhealthy substance use, or restoring your professional wellbeing, you are in for an educationally rich and rewarding experience.
The activity consists of 23 lectures presented August 30 - September 1, 2018 in San Francisco.
PRICE/PURCHASE -- $600 MEMBERS | $735 NON-MEMBERS
You must sign in or register on this site before purchasing using the link on the upper right corner of this page. Only after registering will you see the "Add to Cart" button. 

You will be able to work through the lectures in any order.  In order to get credit, you must complete all of the lectures.

More testimonials!
Deep thinking presenters who presented relevant questions & issues that need to be explored in order to better understand our field
Excellent information Relevant topics Relevant to daily practice for patient care and staff
Target Audience
Addiction medicine specialists who want an overview of the latest developments in the field and their relevance to clinical practice
Primary care clinicians who want a better understanding of addiction and to improve their care of patients with unhealthy substance use
Public policy makers and advocates who want an understanding of the current state of addiction treatment and its political implications
Other healthcare professionals who participate in the care of persons with or at risk of addiction
Learning Objectives
At the end of this Conference, attendees should be able to:
Summarize the theories and science behind novel strategies to reverse a national opioid epidemic
Compare new approaches to integrating high-quality addiction medicine into primary care, hospital, and correctional settings, and into other systems of care
Identify sociocultural factors that impact the care of persons who use drugs, including but not limited to: race, religion, culture, stigma, gender identity, sexuality, primary language, disability, legal status, and housing
Make practice changes that implement evidence-based treatments and patient-centered care for persons with substance use disorders and chronic pain
Apply knowledge about recent neurobiological research to discussions of potential new treatments for cocaine and heroin addiction
Counsel patients about the promise and pitfalls of psychoactive substances for the treatment of addiction and other health conditions
Appraise the newest developments in tobacco policy andrecreational cannabis legalization
Develop an actionable plan to optimize one's personal and professional wellbeing as an addiction practitioner
Open Recovery: Time to Come Out of the Closet | Fay Zenoff, MBA
Injectable Opioid Agonist Treatment for Opioid Use Disorder: Evidence and Opportunities for Expansion | Eugenia Oviedo-Joekes, PhD
Less Pain, Less Gain: Hunting for the Perfect Analgesic | Elyssa Margolis, PhD
The Evidence-Based Journal Club: Two Randomized Trials Comparing Extended-Release Naltrexone to Buprenorphine/Naloxone  | Jamie Carter, MD, MPH | Hannah Snyder, MD
Buprenorphine Frontiers: Transitioning to Buprenorphine from Other Opioids | Jamie Carter MD, MPH | Andrew Herring, MD | Howard Kornfeld, MD | Andrea Rubinstein, MD | Matthew Torrington, MD
Treating Addiction in the Criminal Justice System | Traci Green, PhD, MSc
The 21st Century Cures Act: Reports from the Field in California | Mike Rizzo LMFT, CSAC | David Sprenger, MD
Collaborative Care for Opioid and Alcohol Use Disorders in Primary Care: The SUMMIT Randomized Clinical Trial | Katherine Watkins MD, MSHS
Implementing the Drug Medi-Cal Organized Delivery System (DMC-ODS) in Los Angeles County  | Gary Tsai, MD
Integrating Addiction Care Across Systems | Cynthia Chatterjee, MD, MA, FASAM | Robert Cabaj, MD | Mary Taylor Fullerton, MA, MFT | Hannah Snyder, MD
Psilocybin-Assisted Treatment for Alcohol Use Disorder
Ketamine: A Cautionary Tale  | Matthew Prekupec, MD
Three Views on Cannabis, Medicine and Policy | Beau Kilmer, PhD | Timothy Fong, MD | William Haning, MD, FASAM, DFAPA
Cocaine Research Highlight: Simultaneous Activation of Nociceptin Opioid (NOP) and Mu Opioid (MOP) Receptors | Marsida Kallupi, PhD
Tobacco Policy Highlight: FDA Policy to Lower Nicotine in Cigarettes to Non-Addictive Levels  | Neal Benowitz, MD
The Globalization of Addiction "Domestication" of Opioids… and Beyond | Bruce Alexander, PhD
Taking the Measure of a Fatal Drug Epidemic  | Christopher Ruhm, PhD
Racialization of the Opioid Epidemic: The Role of Whiteness  | Jules Netherland, PhD
Treating Addiction in the Homeless Population |Barry Zevin, MD
Technology Tools for the Addiction Medicine Practitioner | Mario San Bartolome, Jr., MD, MBA
Knowledge is Power: Why Free Lunch Matters | Adriane Fugh-Berman, MD
Using Humor to Address Addiction | Mark Lundholm
Keeping the Spark Alive: Preventing Burnout and Promoting Wellness in Addiction Medicine | Diana Coffa, MD
Opioid Correction or Opioid Trauma? Navigating the Limits of Being Human | Stefan Kertesz, MD, MSc
Conference Planning Committee
Paula Lum, MD, MPH, FASAM (Conference Chair)
Anthony Albanese, MD, DFASAM (Conference Vice Chair)
Sharone Abramowitz, MD, FASAM, FAIHM
Angella Barr, MD
Anusha Chandrakanthan, MD
Cynthia Chatterjee, MD, MA, FASAM
Py Driscoll, MD
Brian Hurley, MD, MBA, DFASAM
Anna Lembke, MD, FASAM
Ricardo Restrepo-Guzman, MD, MPH
Scott Steiger, MD, FASAM
David Tian, MD, MPP
Tauheed Zaman, MD
Speakers
Jerome Adams, MD, MPH: Surgeon General, Department of Health and Human Services
Bruce K. Alexander, PhD: Professor Emeritus, Department of Psychology, Simon Fraser University
Neal L. Benowitz, MD: Professor of Medicine and Bioengineering & Therapeutic Sciences, UC San Francisco
Snehal R. Bhatt, MD: Associate Professor, Psychiatry and Behavioral Sciences; Chief, Addiction PsychiatryMedical Director, Addiction and Substance Abuse Programs, University of New Mexico
Jamie Carter, MD, MPH: Primary Care Addiction Medicine Fellow, University of California, San Francisco
Cynthia R. Chatterjee, MD, MA, FASAM: Psychiatrist, Addiction Specialist, San Mateo County Behavioral Health and Recovery Services
Diana Coffa, MD: Associate Professor, Family and Community MedicineResidency Program Director, SFGH UCSF Family and Community Medicine Residency, University of California, San Francisco
Py Driscoll, MD: Internal Medicine and Addiction Medicine Consultant, Alameda County Medical Center and Alta Mira Recovery Programs
Adriane Fugh-Berman, MD: Professor of Pharmacology & Physiology, Georgetown University
Traci Green, PhD, MSc: Associate Professor, Emergency Medicine & Associate Director & Senior Scientist, Injury Prevention Research Center, Boston University Medical Center
Brian Hurley, MD, MBA, DFASAM: Medical Director of Co-Occurring Disorder Services, Los Angeles County Department of Mental Health
Marsida Kallupi, PhD: Research Associate, The Scripps Research Institute
Stefan G. Kertesz, MD, MSc: Professor, Division of Preventive Medicine, UAB School of Medicine
Beau Kilmer, PhD: Co-director, RAND Drug Policy Research Center; Senior Policy Researcher, RAND; Professor, Pardee RAND Graduate School, RAND Drug Policy Research Center
Paula J. Lum, MD, MPH, FASAM: Professor of Medicine, University of California, San Francisco
Mark R. Lundholm, Comedian: CEO/Founder, MLE, Inc.
Elyssa Margolis, PhD: Associate Professor, UCSF
Jules Netherland, PhD: Director of the Office of Academic Engagement, Drug Policy Alliance
Eugenia Oviedo-Joekes, PhD: Associate Professor, University of British Columbia School of Population and Public Health
Matthew Prekupec, MD, FABIM: Nocturnist, Providence Health – SW Washington
Mike Rizzo, LMFT, CSAC: Manager/ Addiction Recovery Services, Los Angeles LGBT Center
Christopher Ruhm, PhD: Professor of Public Policy & Economics, Frank Batten School of Leadership and Public Policy, University of Virginia
Mario F. San Bartolome, MD, MBA: Medical Director, Substance Use Disorders, Molina Healthcare, Inc.
Gary Tsai, MD: Medical Director and Science Officer, Substance Abuse Prevention and Control, Los Angeles County Department of Public Health
Katherine E. Watkins, MD, MSHS: Senior Natural Scientist, RAND Corporation
Tauheed Zaman, MD: Medical Director, Opioid Safety and Addiction Consult, San Francisco VA Medical Center
Barry Zevin, MD: Medical Director, Street Medicine and Shelter Health, San Francisco Department of Public Health
CREDIT
PHYSICIANS: The California Society of Addiction Medicine (CSAM) is accredited by the Institute for Medical Quality/California Medical Association to provide continuing medical education for physicians.  CSAM takes responsibility for the content, quality and scientific integrity of this CME activity.
CSAM designates this educational activity for a maximum of 17 AMA/PRA Category 1 Credits™ (Physicians should only claim credit commensurate with the extent of their participation in the activity.) This credit may also be applied to the CMA Certification in Continuing Medical Education.
Continuing education credit is also available for nurses, psychologists, pharmacists, physician assistants, and therapists.
Available Credit
17.00

AMA Category 1

17.00

Attendance