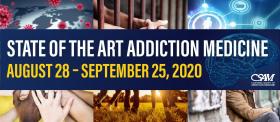 Psychiatry for Addiction Physician (2020)
This virtual workshop, part of the 2020 State of the Art Conference, will address psychiatric diagnosis and treatment interventions relevant to non-psychiatric addiction medicine providers. Among the topics to be covered are approaches to treating anxiety, depression, psychosis and personality disorders in patients with active substance use. Clinical approaches to address depression and anxiety caused or exacerbated by the COVID-19 pandemic will be covered.
PRICE/PURCHASE -- $125 (CSAM/ASAM MEMBERS); $225 (NON-MEMBERS)
You must sign in or register on this site before purchasing using the link on the upper right corner of this page. Only after registering will you see the "Add to Cart" button. 

To purchase, click on the course (you do not need to select each lecture). After you have selected it, scroll to the bottom of the page and click "Add to Cart." 

You will be able to work through the lectures in any order by clicking on the lecture in the table below. You may print out a CME certificate or transcript of your cumulative credits at any time.
Target Audience
Physicians practicing addiction medicine who want a deeper understanding of psychiatric issues relating to substance use disorder.
Clinicians working working with patients with co-occurring addiction and other psychiatric disorders.
Learning Objectives
Understand alternative assessment and treatment approaches for individuals with co-occurring substance use disorder and unipolar depression, bipolar disorder, psychosis, anxiety disorders, and ADHD
Implement fundamental psychopharmacology heuristics for individuals with co-occurring psychiatric and substance use disorders
Develop understanding of brief psychotherapeutic and behavioral interventions that naturally lend themselves to integration into a medical model
Introductory & COVID-19 Mental Health Overview
Anxiety – Carla Marienfeld​, MD
MDD and BPD – Martin Leamon​, MD
Personality Disorders – Brian Hurley​, MD, MBA, DFASAM
ADHD – Carla Marienfeld, MD
Psychosis - Brian Hurley, MD, MBA, DFASAM
Brian Hurley, MD, MBA, DFASAM
Brian Hurley, MD, MBA, DFASAM is an addition psychiatrist and the Director of Addiction Medicine for the Los Angeles County Department of Health Services. Brian is currently a Director at Large for the American Society of Addiction Medicine (ASAM) and gives presentations around the world related to addiction medicine. He co-chairs the Los Angeles County Department of Health Services' Substance Use Disorders Workgroup and the SafeMedLA Medications for Addiction Treatment Action Team, and is the Clinical Director of the Addiction Treatment Starts Here programs through the Center for Care Innovations, focused on increasing the delivery of Medications for Addiction Treatment in California's community health centers. He is the PI of two MAT Access Points projects funded by the Sierra Health Foundation, a co-PI of a TRDRP funded smoking cessation implementation project, and a co-investigator on NIDA, NIAAA, and PCORI funded addiction related implementation science grants managed through RAND. He is a member of the Motivational Interviewing Network of Trainers and regularly conducts motivational interviewing trainings throughout the United States. He is a Volunteer Assistant Clinical Professor of Addiction Medicine in the Department of Family Medicine at the UCLA David Geffen School of Medicine. He additionally serves on the American Board of Psychiatry and Neurology's Addiction Psychiatry examination writing committee. Brian completed the Robert Wood Johnson Foundation Clinical Scholars Program at the University of California, Los Angeles (UCLA).
DISCLOSURE: No relevant financial relationships to disclose
 
Martin Leamon, MD
Dr. Leamon is a Health Science Clinical Professor of Psychiatry at University of California, Davis, where he is the addiction psychiatrist for UC Davis Health Network and the Department of Psychiatry and Behavioral Sciences. Additionally, he is heavily involved in undergraduate and postgraduate physician and other medical professional education. He has authored/co-authored over 90 academic works and peer-reviewed publications on substance-related disorders and education-related topics, and has consulted to local and state governmental organizations. Dr. Leamon received his MD from Boston University School of Medicine and completed his residency in Psychiatry at Letterman Army Medical Center.
DISCLOSURE: No relevant financial relationships to disclose
 
Carla Marienfeld, MD
Carla Marienfeld, MD, is a board-certified addiction psychiatrist and Clinical Professor at the University of California, San Diego who supports recovery in an evidence based, harm-reduction approach through therapy, motivational interviewing, and medication treatment. Her research looks at health outcomes for individuals with substance use disorders, and she edited two books: Motivational Interviewing for Clinical Practice and Absolute Addiction Psychiatry Review: An essential board exam study guide. She has been highly involved in education of colleagues and trainees about addiction psychiatry and effective interventions including buprenorphine treatment and motivational interviewing, and she is the fellowship director for the UCSD Addiction Psychiatry Fellowship. Dr. Marienfeld completed a fellowship in addiction psychiatry and residency training in psychiatry at Yale. During her residency, she was chief resident of psychiatry and founded (and later led) the Yale Global Mental Health Program. She earned a medical degree with honors from Baylor College of Medicine in Houston.
DISCLOSURE: No relevant financial relationships to disclose
The California Society of Addiction Medicine (CSAM) is accredited by the California Medical Association to provide continuing medical education for physicians. CSAM takes responsibility for the content, quality and scientific integrity of this CME activity.
CSAM designates this virtual educational activity for a maximum of 3.5 AMA PRA Category 1 Credits™, Physicians should only claim credit commensurate with the extent of their participation in the activity. 
Continuing education credit is available for psychologists, therapists, substance use counselors, nurses and physician assistants.
MAINTENANCE OF CERTIFICATION (MOC)
ABPM
The American Board of Preventive Medicine (ABPM) has approved this activity for a maximum of 3.5 LLSA credits towards ABPM MOC Part II requirements.
Should you need a copy of your ABPM MOC certificate, please inquire via email at csam@csam-asam.org.
Users are responsible for reporting CME credits directly to ABPM. 

ABAM
This course has been approved by the American Board of Addiction Medicine (ABAM). Physicians enrolled in the ABAM Transitional Maintenance of Certification (tMOC) Program can apply a maximum of 3.5 AMA PRA Category 1 Credits™ for completing the CSAM Addiction Medicine Review Course.
Users are responsible for reporting CME credits directly to ABAM. 

ABIM
Successful completion of this CME activity, which includes participation in the evaluation component, enables the participant to earn up to 3.5 MOC points in the American Board of Internal Medicine's (ABIM) Maintenance of Certification (MOC) program. Participants will earn MOC points equivalent to the amount of CME credits claimed for the activity. It is the CME activity provider's responsibility to submit participant completion information to ACCME for the purpose of granting ABIM MOC credit.
CSAM will report your participation to ABIM at the end of the year.
Should you have any questions or need a copy of your MOC certificate, please use the 'Contact Us' tab to submit your inquiry, thank you.
Available Credit
3.50

AMA Category 1

3.50

Attendance