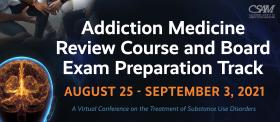 CSAM 2021 High Yield Question Bank
The High Yield Question Bank is designed for physicians taking the Addiction Medicine Board Exam from the American Board of Preventive Medicine.
A goal is to improve pass rates by helping test takers focus on high-yield concepts and successful study methods.
It consists of:
Interactive Self-Assessment (10 CME credits) featuring over 500 updated board-style questions with feedback and/or references for each, organized by topic areas similar to those on the ABPM exam. You may take the quiz multiple times to practice!
The question bank was refreshed in 2021 by physicians in the field. If you have any questions or feedback about the question bank, please use the "Contact Us" tab above. 
PRICE: $149 (Members) | $219 (Non-Members)
Target Audience
Those planning on taking the ABPM Addiction Medicine Board Exam. 
Physicians and other clinicians who wish to conduct a self assessment of their knowledge of addiction medicine in order to identify areas for further study.
Learning Objectives
Demonstrate knowledge in key focus areas of addiction medicine.
Describe the effects of alcohol, tobacco and other drugs.
Recognize the various treatment approaches for addictive disorders.
This set of over 500 board-style questions has been developed by physicians in the field of addictions and is aligned with the 16 key topic areas of the American Board of Preventive Medicine's exam content Blueprint. This version offers more demonstration questions on Preventive Medicine as recommended by last year's test-takers. This web-based, on-demand set of questions with correct answers indicated is ideal for self-study and self-paced learning.
Chwen-Yuen Angie Chen, MD, FACP, FASAM, Co-Chair
Dr. Chen is a Board Certified Internist and Addiction Medicine Specialist. She is a Clinical Associate Professor of Medicine at Stanford University School of Medicine and is Medical Director of the Primary Care Chemical Dependency Clinics, teaching medical students, residents and fellows. She is on the CSAM Board of Directors as Chair of Communications and Editor of CSAM News.
No relevant financial relationships to disclose.
Triveni DeFries, MD
Dr. DeFries is an Assistant Clinical Professor of Internal Medicine at University of California, San Francisco, where she also completed a fellowship in Primary Care Addiction Medicine. She works at San Francisco General Hospital's general medicine primary care clinic, inpatient addiction medicine consult service and as a consultant for the National Clinician Consultation Center's Substance Use Warmline.
No relevant financial relationships to disclose.
Dustin DeYoung, MD
Dr. DeYoung, MD, is a psychiatrist for the University of California, Los Angeles (UCLA) Behavioral Health Associates. He received his medical degree from the University of Michigan Medical School and completed a combined residency in Psychiatry and Family Medicine at the University of Iowa Hospitals and Clinics.  He then completed a NIDA-sponsored T32 Training Program on Addiction Medicine at UCLA.
Disclosure: BDH Pharma, LLC - Salary as Co-Founder
Lori Karan, MD, DFASAM, FACP
Dr. Karan proudly directs the Addiction Medicine Fellowship of the Loma Linda University Health Education Consortium.  In addition to developing the Fellowship, she is working to grow and foster a broad range of addiction services for California's Riverside and San Bernardino counties (aka: The Inland Empire).
No relevant financial relationships to disclose.
Thomas W. Meeks, MD, FASAM, Co-Chair
Dr. Meeks, MD, is a psychiatrist specializing in the treatment of addiction/substance use disorders. Dr. Meeks is Board Certified by the American Board of Psychiatry and Neurology and by the American Board of Addiction Medicine.  He received his Doctor of Medicine degree from the Medical College of Georgia and completed residency training in Psychiatry at Emory University in Atlanta, GA.
No relevant financial relationships to disclose.
Isabella Morton, MD, MPH
Dr. Morton is an Addiction Psychiatry Fellow at University of California San Francisco. She earned her undergraduate degree in International Relations from Brown University and her medical degree from the Icahn School of Medicine at Mt. Sinai. She completed a Masters of Public Health at the Johns Hopkins Bloomberg School of Public Health focused on global mental health.
No relevant financial relationships to disclose.
Christopher Rienas, MD
Dr. Rienas is Board Certified in Addiction Psychiatry and General Psychiatry. He completed his residency and fellowship training at the University of California, San Francisco after graduating from Medical School at the University of Miami. He is a member of the Alpha Omega Alpha Honor Medical Society and has been awarded as a Ruth Fox Scholar by the American Society of Addiction Medicine and a Honors Scholar by the American Association of Geriatric Psychiatry.
No relevant financial relationships to disclose.
Demetra Stamm, MD
Dr. Stamm received her MD/PhD from the University of North Carolina Chapel Hill. She completed her psychiatry residency at San Mateo County where she enjoyed serving underserved populations.  Since 2017, she has been a staff psychiatrist and clinical supervisor of San Mateo Medical Center's Integrated Behavioral Health Clinic.
No relevant financial relationships to disclose.
Rachel Sussman, MD
Dr. Sussman is a faculty member in the Stanford-O'Connor family medicine residency program in San Jose and in the Stanford Addiction Medicine fellowship program.  She grew up in Allentown, Pennsylvania, studied cognitive science at Yale, and received a master's in cognitive psychology from Harvard before completing medical school at Stanford.
No relevant financial relationships to disclose.
Mason Turner, MD, MS
Mason Turner, MD, is a Staff Psychiatrist and Addiction Medicine Specialist to a large multi-disciplinary medical group in Hawaii. As part of the Kaiser Permanente network, this medical group is focused on providing population-based health care to patients from a variety of different insurance backgrounds (Medicaid, Medicare, and commercial/ private insurance) and to an extremely diverse population of patients, providing the highest quality care. 
No relevant financial relationships to disclose.
PHYSICIANS: The California Society of Addiction Medicine (CSAM) is accredited by the California Medical Association to provide continuing medical education for physicians.  CSAM takes responsibility for the content, quality and scientific integrity of this CME activity.
CSAM designates this educational activity/enduring material for a maximum of 10 AMA/PRA Category 1 Credits™. (Physicians should only claim credit commensurate with the extent of their participation in the activity.) This credit may also be applied to the CMA Certification in Continuing Medical Education.
NON-PHYSICIANS: The California Society of Addiction Medicine (CSAM) provides a certificate of attendance for this online course based upon the number of hours you participated, up to maximum of 10. 
Available Credit
10.00

AMA Category 1

10.00

Attendance