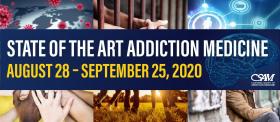 Addiction Medicine in Correctional Settings (2020)
This virtual workshop, part of the 2020 State of the Art Conference, will address the delivery of addiction medicine treatment within correctional health settings. Presenters will review the structure of correctional health systems with jails and prisons in general and highlight the application of a medication-first (low barrier) approach to providing medications for opioid use disorder to inmates within one California county jail system. The workshop will also review trauma-informed care for patients in correctional settings and discuss implications of the COVID-19 pandemic on the delivery of addiction medicine in correctional health settings.
PRICE/PURCHASE -- $125 (CSAM/ASAM MEMBERS); $225 (NON-MEMBERS)
You must sign in or register on this site before purchasing using the link on the upper right corner of this page. Only after registering will you see the "Add to Cart" button. 

To purchase, click on the course (you do not need to select each lecture). After you have selected it, scroll to the bottom of the page and click "Add to Cart." 

You will be able to work through the lectures in any order by clicking on the lecture in the table below. You may print out a CME certificate or transcript of your cumulative credits at any time.
Target Audience
Physicians practicing addiction medicine who want a deeper understanding of psychiatric issues relating to substance use disorder.
Clinicians working working with patients with co-occurring addiction and other psychiatric disorders.
Learning Objectives
Explain the structure, funding, regulation, and deployment of correctional health services for patients in incarcerated settings affects how addiction treatments is and could be offered to individuals with substance use disorders in these settings.
Define adverse childhood experiences (ACEs), describe how ACEs and trauma increase risk for substance use disorders for incarcerated persons, and discuss trauma-informed care.
Define change management strategies employed to promote the use of medications for opioid use disorder in justice-involved populations.
Summarize the initially identified outcomes and impacts associated with the application of the medication first approach to treating opioid use disorder in the Orange County jail.
Advocate for improved provision of services to individuals with addiction in incarcerated settings.
Review of Correctional HC – Brian Hurley, MD, MBA, DFASAM 
Trauma Informed Care – Karen L. Hill, PhD, MSN, ANP-C, PHN
Medication First/Low Threshold – Brian Hurley MD, MBA, DFASAM
CDCR and CA Jail – Shannon Robinson, MD
Orange County Jail – Hsien Chiang, MD
Hsien Chiang, MD
C. Hsien Chiang, MD is a physician board certified in Family medicine and Addiction medicine and is the medical director for Correctional Health Services, a division under Orange County Health Care Agency, which provide medical and mental health services for the Orange County Jail. He is also a Volunteer Assistant Clincal Professor in the Family Medicine department at UC Irvine.
DISCLOSURE: No relevant financial relationships to disclose
 
Brian Hurley, MD, MBA, DFASAM
Brian Hurley, MD, MBA, DFASAM is an addition psychiatrist and the Director of Addiction Medicine for the Los Angeles County Department of Health Services. Brian is currently a Director at Large for the American Society of Addiction Medicine (ASAM) and gives presentations around the world related to addiction medicine. He co-chairs the Los Angeles County Department of Health Services' Substance Use Disorders Workgroup and the SafeMedLA Medications for Addiction Treatment Action Team, and is the Clinical Director of the Addiction Treatment Starts Here programs through the Center for Care Innovations, focused on increasing the delivery of Medications for Addiction Treatment in California's community health centers. He is the PI of two MAT Access Points projects funded by the Sierra Health Foundation, a co-PI of a TRDRP funded smoking cessation implementation project, and a co-investigator on NIDA, NIAAA, and PCORI funded addiction related implementation science grants managed through RAND. He is a member of the Motivational Interviewing Network of Trainers and regularly conducts motivational interviewing trainings throughout the United States. He is a Volunteer Assistant Clinical Professor of Addiction Medicine in the Department of Family Medicine at the UCLA David Geffen School of Medicine. He additionally serves on the American Board of Psychiatry and Neurology's Addiction Psychiatry examination writing committee. Brian completed the Robert Wood Johnson Foundation Clinical Scholars Program at the University of California, Los Angeles (UCLA).
DISCLOSURE: No relevant financial relationships to disclose
 
Shannon Robinson, MD
Shannon Robinson, M.D. is board certified in Psychiatry and Addiction Medicine, a Fellow of American Society of Addiction Medicine, and works as a Principal for Health Management Associates, a national healthcare consulting firm. Dr. Robinson served as the Chief of Addiction Service for California Correctional Healthcare Services where she was the champion change management agent for administration and line staff while initiating Medications for Addiction Treatment within primary care, assisting with the development of enhanced evidence-based substance use disorder treatment and person centered care throughout California Department of Corrections and Rehabilitation. She was the Director of the Alcohol and Drug Treatment Program at the San Diego, Veterans Administration (VA) where she oversaw screening, brief intervention, referral, assessment, level of care determination, initiated Medications for Addiction Treatment, expanded assess to evidenced-based psychotherapies, and assisted with the development of the VA's national educational materials for Alcohol Use Disorders, Opioid Use Disorders, Pain Management and Treatment of Insomnia. Dr. Robinson provided and supervised telehealth in theVA and California Correctional Healthcare Services.
DISCLOSURE: No relevant financial relationships to disclose

Karen L. Hill, PhD, MSN, ANP-C, PHN
Karen Hill, PhD, MSN, ANP-C, PHN is a Senior Consultant at Health Management Associates. 
Dr. Hill is a primary care nurse practitioner with a specialty in environmental and occupational and young adult health. She has served as a provider of direct care clinical services and in numerous administrative and training roles. She is experienced adult, adolescent and young adult health, social determinates of health and health equity and disparities and community engagement of safety-net populations. She has extensive experience working with formerly incarcerated persons, and individuals with substance use disorders and adverse childhood experiences and trauma informed care. With nearly 30 years of general surgery, women's health and primary care provider experience, her clinical capabilities span re-entry, federally qualified health centers, primary care, acute care, outpatient care, home healthcare transitions, and trauma-informed systems of care. Dr. Hill came to HMA from the Center of Youth Wellness where she served as the interim vice president of clinical programs. Prior to that she served as the Glide Health Services (the largest NP-Led) federally qualified community health center on the West Coast for 15 years. In these various roles, Dr. Hill has focused her efforts on equity, patient care and safety; providing evidence-based, patient-centered care; innovative care delivery; clinical operations; health promotion activities; and developing inter-agency relationships and community alliances. She is currently a Adjunct Clinical Professor and UCSF School of Nursing.
DISCLOSURE: No relevant financial relationships to disclose
The California Society of Addiction Medicine (CSAM) is accredited by the California Medical Association to provide continuing medical education for physicians. CSAM takes responsibility for the content, quality and scientific integrity of this CME activity.
CSAM designates this virtual educational activity for a maximum of 3.5 AMA PRA Category 1 Credits™, Physicians should only claim credit commensurate with the extent of their participation in the activity. 
Continuing education credit is available for psychologists, therapists, substance use counselors, nurses and physician assistants.
MAINTENANCE OF CERTIFICATION (MOC)
ABPM
The American Board of Preventive Medicine (ABPM) has approved this activity for a maximum of 3.5 LLSA credits towards ABPM MOC Part II requirements.
Should you need a copy of your ABPM MOC certificate, please inquire via email at csam@csam-asam.org.
Users are responsible for reporting CME credits directly to ABPM. 

ABAM
This course has been approved by the American Board of Addiction Medicine (ABAM). Physicians enrolled in the ABAM Transitional Maintenance of Certification (tMOC) Program can apply a maximum of 3.5 AMA PRA Category 1 Credits™ for completing the CSAM Addiction Medicine Review Course.
Users are responsible for reporting CME credits directly to ABAM. 

ABIM
Successful completion of this CME activity, which includes participation in the evaluation component, enables the participant to earn up to 3.5 MOC points in the American Board of Internal Medicine's (ABIM) Maintenance of Certification (MOC) program. Participants will earn MOC points equivalent to the amount of CME credits claimed for the activity. It is the CME activity provider's responsibility to submit participant completion information to ACCME for the purpose of granting ABIM MOC credit.
CSAM will report your participation to ABIM at the end of the year.
Should you have any questions or need a copy of your MOC certificate, please use the 'Contact Us' tab to submit your inquiry, thank you.
Available Credit
3.50

AMA Category 1

3.50

Attendance