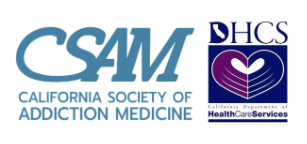 The webinars below include a small fee and provide CME (free for CSAM members). These two webinars were created with the support of a grant funded by the California Department of Healthcare Services (DHCS).
The number of X-waivered providers in California is increasing.  Many primary care providers are now doing office-based care of patients with opioid use disorder.  This webinar will showcase common, challenging situations that arise for patients being maintained on buprenorphine.  Expert discussants will talk through cases to teach the learner practical management tips. 
Presenters: Soraya Azari, MD, Kenneth Saffier, MD, FASAM and Scott Steiger, MD, FACP, FASAM
---
This webinar will review the complexities of carrying out buprenorphine inductions among patients with co-morbid pain, and a novel approach for managing these transitions.
Presenters: Soraya Azari, MD and Tauheed Zaman, MD
---

Pre-Recorded MAT Webinars (one hour)
The webinars below include a small fee and provide CME credit (free for CSAM members). PA's, nurses, pharmacists, psychologists and therapists can earn CEU credit. The webinars are available for free without CME credit on the California Health Care Foundation website. 
Office-Based Buprenorphine: Patient Selection, Induction, and Management (Recorded 10/28/2016)
The first in a series of 12 monthly webinars designed to support the implementation of Medication Assisted Treatment (MAT) in primary care. We will address the spectrum of needs including clinician needs, systems of care and regulatory/legal milieu. Our first webinar will focus on practical issues of induction on buprenorphine, including evaluating if the patient is appropriate for office-based opioid treatment (OBOT), factors that inform the decision around home or office-based inductions and the basics of inductions from methadone and other long-acting opioids. This webinar is designed to dovetail with an earlier CSAM webinar covering buprenorphine induction basics.
Presenter: Soraya Azari, MD, Assistant Professor, Department of Medicine, UCSF School of Medicine
---
Patient Confidentiality and Medication-Assisted Treatment in California Primary Care Settings (Recorded 11/18/2016)
As California's primary care (PC) clinics work to integrate medication-assisted treatment (MAT) into services, they will encounter questions around legal regulations governing privacy of patient records. What is 42 CFR Part 2? What does it mean & how does it apply to PC? Can certain PC program design elements allow unified medical charting by not activating this regulation? How can you recruit patients w/out "putting yourself out?" This webinar is an introduction to these issues (without giving any formal legal advice). |
Presenter: David Kan, MD, UCSF Clinical Faculty, Private Practice, Medical Director, Addiction Treatment Unit, Bright Heart Health
Presenter: Harry Nelson, JD, Managing Partner, Nelson, Hardiman LLP
---
Expanding Access to Medication Assisted Treatment Utilizing Nurse Care Managers 
The third in a series of 12 monthly webinars designed to support the implementation of Medication Assisted Treatment (MAT) in primary care. This webinar will review the role nurses can play in building a team based model, assisting waivered primary care physicians provide high quality care, supporting the complex needs of patients with substance use disorder and the expansion of treatment. Elements that will be covered will include:  clinical care, coordination of services among team-members, regulatory compliance, office workflow. Recorded 12/16/2016
Presenter: Colleen T. LaBelle, MSN, RN-BC, CARN
---
Effective Strategies for The Non-Adherent Buprenorphine Patient: Rational Monitoring and Contingency
Worried about prescribing buprenorphine for addiction? ...about patient misuse or diversion? In this webinar, we provide a simple framework to conceptualize the doctor-patient relationship which can empower you to remain in a compassionate stance toward risky or non-adherent patients, while also helping them modify their behavior toward safer and more appropriate use. You will learn how to interpret the prescription drug monitoring database, and urine toxicology tests, and integrate them in your practice. More importantly, you will find out what to do when these screening tests come up positive … without having to resort to rejection or retaliation, or experiencing feelings of burnout." Recorded 1/27/2017
Presenters: Anna Lembke, MD and Greg Skipper, MD
---
Psychological/Behavioral Strategies for Pain Management: Tools for PCPs to Use in a 20 Minute Visit
Many primary care providers who work with chronic pain patients have limited or no access to psychological resources to help patients struggling with daily pain. This webinar will include psychological and behavioral techniques PCPs can use during their brief visits with patients to facilitate coping strategies and adherence. Case examples and techniques to help manage provider burn out will also be covered. Recorded 2/24/2017.
---
Managing Acute and Perioperative Pain in Patients on Medication-Assisted Treatments (Recorder March 24, 2017)
This webinar will discuss the best evidence for management of acute and perioperative pain for patients on buprenorphine, methadone and  naltrexone formulations for substance use disorders. We will cover strategies for patient preparation and communication with the perioperative team. 
Presenter: Andrea Rubinstein, MD 
---
Tapering Long-Term Opioids (Recorded April 28, 2017)
With recent changes in guidelines designed to improve the safety of long-term opioid therapy, many prescribers have initiated opioid tapering programs though little is known about the risks and benefits of opioid tapering.  Possible risks of opioid tapering include worsened pain or function as well as identification of previously undiagnosed opioid use disorder. This webinar provides a brief background and review the available evidence to guide patient-centered tapering of long-term opioid therapy. We will provide strategies for clinicians to discuss tapering with their patients and get patient buy-in as well as resources to help implement opioid tapers.
Presenter: Joseph Frank, MD, University of Colorado School of Medicine, VA Eastern Colorado Health System
---
Naloxone Prescribing in Primary Care: Why, Who, and How / Diana Coffa, MD   (Recorded May 19, 2017)
Opioid overdose deaths rates are climbing and primary care physicians are on the front lines. Naloxone has revolutionized overdose prevention among people who use heroin but is underutilized in people who use prescription opioids. In this webinar, we will examine the history of naloxone, evidence for prescribing it in primary care, tips for getting patient buy-in, and strategies for implementing prescription programs in resource-limited settings.
Presenter: Diana Coffa, MD, Associate Professor, Residency Program Director, Family and Community Medicine UCSF 
---
Complex Chronic Pain, Opioid Prescribing and Opioid Use Disorder: Pitfalls, Pearls and New Directions / William C. Becker, MD (Recorded June 23, 2017)
Chronic pain is widely prevalent and often treated with opioids, which can be complicated by low efficacy, safety issues, misuse and opioid use disorder. In this case-based webinar, we will discuss practical approaches to diagnosis and treatment with a special focus on communication tips to support patients, providers, and staff as they navigate challenging clinical scenarios.
Presenter: William C. Becker, MD, Core Investigator: Pain Research, Informatics, Multimorbidities & Education (PRIME) Center of Innovation, VA Connecticut Healthcare System; Assistant Professor, Yale University School of Medicine
---
How to Build a Controlled Substance Review Committee in Your Primary Care Clinic: Why? Who? How?  (Recorded July 28, 2017)
Is your primary care clinic struggling to navigate cultural changes around chronic pain and opioid management? Why not look into creating an internal peer-review committee for complex pain cases? If done right, it can improve the experience of both patients and providers. This webinar will use a case-based format to review the basic structure and composition of such a committee, the operations, and the benefits to its use. 
Presenter: Soraya Azari, MD
---
Transitioning High-Dose Opioid Chronic Pain Patients to Buprenorphine (Recorded September 22, 2017)
Case-based webinar will address patients with chronic non-cancer pain who have been maintained on high dose opioids (> 90-250MED) for months years without improvement in functional outcome and break out characteristics of what is increasingly being called the "Lost Generation:" patients taking in excess of 240 MED. The speaker will present one clinician's approach to these patients including the clinical importance of withdrawal and harm reduction strategies such as naloxone kits, supporting patients through tapering, if tapers fail, transitioning to buprenorphine from higher dose opioids to improve safety in high-risk cohort.
Presenter: Paul Coelho, MD
---
Medication-Assisted Treatment for Alcohol Use Disorder: A Guide for Primary Care Providers (Recorded 10/27/2017)
Alcohol use disorder (AUD) is common in primary care where the bulk of these patients are seen -often for its complications- but medications to treat AUD remain underutilized in this setting. Primary care physicians can and should prescribe medications to help patients reduce their alcohol use. This practical webinar will cover the basics of when to provide medications for this disorder and what patient characteristics to keep in mind when choosing from the 4 FDA approved medications available.
Presenter: Steven Batki, MD
---
Strategies to Increase Your Confidence with Buprenorphine Prescribing in Primary Care (Recorded June 2, 2016) 
An estimated 30-70% of providers with the DEA waiver to treat opioid addiction with buprenorphine do not use it.  The goal of this webinar is to review common problems encountered in buprenorphine prescribing via case vignettes.  Approaches and strategies for these common challenges will be provided.
Presenter: Soraya Azari, MD, Assistant Professor, Department of Medicine, UCSF School of Medicine
Presenter: Scott Steiger, MD, Assistant Professor, Department of Medicine, UCSF School of Medicine
---
Buprenorphine Formulations and  Clinical Challenges in Prescribing Buprenorphine
Participants bring up for discussion questions pertaining to the prescribing and implementation of buprenorphine therapy. An update on the FDA's approval of new formations of buprenorphine for both opioid use disorders and pain is provided.
Presenter: Matt Torrington, MD, Dr. Torrington's work combines of clinical research, community outreach, education and the practice of medicine. He has over a decade of clinical research.  Dr. Torrington serves the community by directly providing care to those without financial means and as the founder and primary addiction specialist of the End Dependence-Common Ground free clinic. Dr. Torrington maintains a private practice specializing in the management of difficult addiction and pain disorders.