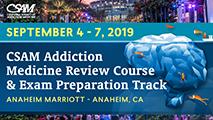 CSAM Addiction Medicine Review Course (2019)
The Addiction Medicine Review Course provides an in-depth overview of what really is essential in treating addicted patients: from basic epidemiology, pharmacology, and neurobiology, to the challenge of identifying dependent or at-risk patients across many different treatment settings, from the emergency room to the intensive care unit to private practice. Participants will come away with practical knowledge that can be applied to real-world experiences, as well as the knowledge needed to pass the ABMS addiction medicine board exam. Presenters are nationally-recognized experts and clinicians with extensive practical experience.
The activity consists of 19 lectures presented September 4-7, 2019 in Anaheim.
PRICE/PURCHASE -- $600 (CSAM/ASAM Members); $735 (Non-Members)
You must sign in or register register on this site before purchasing using the link on the upper right corner of this page. Only after registering will you see the "Add to Cart" button.

To purchase, click on that box (you do not need to select each lecture). After you have selected, scroll to the bottom of the page and click "Add to Cart."

You will be able to work through the lectures in any order by clicking on the lecture in the table below. You can print out a CME certificate or transcript at any time.
Target Audience
Addiction medicine specialists who want an overview of the latest developments in the field and their relevance to clinical practice
Primary care clinicians who want to get a better understanding of addiction and manage patients with addictions in their practice
Public health officials who want an understanding of the current state of addiction treatment
Non-physicians who are involved in the treatment of addiction
Learning Objectives
Upon completion of this course, participants should be able to:
Recognize the medical/mental health effects of alcohol, tobacco, and other substances on the individual, including the potential for addiction;
Understand the basic neurobiological, behavioral, and genetic mechanisms of addiction;
Describe the main drugs of abuse, their pharmacology, and specifics associated with the diagnosis, detoxification, and treatment for each, and apply in clinical situations;
Apply in treatment an understanding of the main features of related psychological disorders seen in patients suffering from substance use disorders;
More effectively carry out education/advocacy around addictions issues in different treatment venues.
The following lectures make up the 2019 Addiction Medicine Review Course

Technology Addiction | Robert H. Lustig, MD, MSL

Opioid Use Disorder | Soraya Azari, MD

Pain and Addiction | Andrea Rubinstein, MD

Medical Complications of Addiction | Py Driscoll, MD

Cannabis Use Disorder | Salomeh Keyhani, MD, MPH

Adolescents, Prevention and Epidemiology Panel | Martha Ignaszewski, MD; Christopher Rienas, MD; Takeo Toyoshima, MD

Confidentiality, Ethics, 42 CFR |David Kan, MD, DFASAM

Ending the Stigma Surrounding Addiction, Clinician Self-Disclosure and Advocacy | Fay Zenoff, MBA

Neurobiology of Addiction | Edythe London, PhD

Spirituality and Mutual Help | William F. Haning, MD, DFASAM, DFAPA; Karen Miotto, MD, DFASAM

Nicotine Use Disorder | Smita Das, MD, PhD, MPH

Co-occurring Disorders | Richard Ries, MD, DFASAM, FAPA

Evidence-based Psychological Treatments | Stephanie Cardoos, PhD

Process Addictions Panel | Timothy Fong, MD; Terry Eagan, MD

Alcohol Use Disorder | Steven Batki, MD

Pregnancy, Women's Substance Use Disorder | Tipu Khan, MD, FAAFP, FASAM

Club Drugs and Hallucinogens| Abigail Herron, DO, FAPA, DFASAM

Sedative-Hypnotic Use Disorder | Steven Batki, MD

Stimulant Use Disorder | Steven Shoptaw, PhD
Conference Speakers and Planners
Sharone Abramowitz, MD, FASAM, FAIHM
Dr. Abramowitz has an integrative mental health & addiction medicine practice in San Francisco & Oakland. She is ABAM certified & completed a UCSF psychiatry residency, where she won an award for unusual concern for the welfare of patients. After being on a primary care medicine residency faculty for over 25 years, she became a faculty member and graduate of the Academy of Integrative Health and Medicine's integrative health fellowship. Since became an MI trainer in 2002 & has trained numerous health organizations. She chairs CSAM's Integration and Access to Systems of Care Committee, and has chaired and co-chaired past CSAM conferences. She is the founder of AbramowitzHealthyCommunicating.com.

Soraya Azari, MD
Soraya Azaris is an Associate Professor of Medicine at the UCSF School of Medicine. She completed her residency at UCSF in the San Francisco General Primary Care program and Chief Residency year at San Francisco General Hospital. She is the Physician Lead for QI and Safety for Controlled Substances in the Richard Fine People's Clinic, the Associate Program Director for the SFGH Primary Care track, and the director of a Hepatitis C treatment program in the ZSFG narcotic treatment program. Research and teaching interests include improving the quality of care for patients with substance use disorders and chronic pain, and facilitating the transition between the inpatient and outpatient settings.

Steven L. Batki, MD
Steven L. Batki, M.D. is Professor of Psychiatry at the University of California, San Francisco (UCSF) School of Medicine, Director of the Addiction Recovery Treatment Services at the San Francisco VA Medical Center where he also directs the Addiction Research Program and the UCSF/SFVAMC Addiction Psychiatry Fellowship Program. Dr. Batki also serves as the Addiction Psychiatry Consultant for Alta Mira Recovery Programs, a residential rehabilitation program in Sausalito, CA. Dr. Batki is engaged in addiction research, training, and clinical services. His research focuses on the pharmacological treatment of addiction and co-occurring psychiatric and medical disorders. His current NIDA-funded work studies the treatment of methamphetamine dependence, and his current VA-based research program focuses on the treatment of alcohol use disorder in veterans with co-occurring PTSD and mild TBI.

William Brostoff, MD

Stephanie Cardoos, PhD
Stephanie L. Cardoos, PhD, is a staff psychologist with the Drug and Alcohol Treatment Clinic (DAT) and Prescription Opioid Safety Team/Addiction Consult service (POST/AddCon) at the San Francisco VA Medical Center (SFVAMC). She is also a Health Sciences Assistant Clinical Professor of Psychiatry at the University of California, San Francisco (UCSF) School of Medicine. Dr. Cardoos earned her doctorate in clinical psychology from the University of California, Berkeley and completed her clinical internship at the San Francisco VA Medical Center. She subsequently returned to the SFVAMC to complete a postdoctoral fellowship in the Substance Use and Co-occurring Disorders Treatment emphasis area. She provides direct clinical care, supervises interdisciplinary trainees, and participates in research activities. She is involved in several Diversity, Equity, and Inclusion efforts at the SFVAMC, including through the Psychology Diversity Committee.

Kevin D. Cauley, JD

Cynthia R. Chatterjee, MD, MA, FASAM
Cynthia R. Chatterjee, MD, MA, FASAM is an addiction medicine specialist and psychiatrist for San Mateo County Health System, Behavioral Health and Recovery Services (BHRS). She is the lead physician for the BHRS Integrated Medication-Assisted Treatment team and is the Program Director for the Health System's Addiction Medicine Fellowship. She is a graduate of UC San Francisco School of Medicine and completed her psychiatry residency training at Stanford University. She is Adjunct Clinical Assistant Professor at Stanford University, where she volunteers at the Cardinal Free Clinics.

Chwen-Yuen Angie Chen, MD, FACP, FASAM
Dr. Chen graduated from UC Davis School of Medicine and went on to complete a year of Psychiatry before finishing Internal Medicine training. Afterwards, she pursued a clinical fellowship in Neurosurgery and later worked in primary care and as a hospitalist while also being part of an addiction pharmacology research team at the CPMC. She is currently Medical Director of Chemical Dependency Clinics in Primary Care at Stanford University and is board certified by the American Board of Internal Medicine and a Diplomate of the American Board of Addiction Medicine. She is a board member of CSAM as chair of communications, Editor of the CSAM newsletter, and oversees the Test Taking Track Board Review Question Bank.

Scott D. Clark, MPA
Scott Clark is Policy Director for Well Physician California. Mr. Clark's focus is addressing systemic issues that impact physician burnout and professional fulfillment. His work includes policy development and advocacy, data collection and analysis, and development of a peer support line. In an earlier role with CMA, Mr. Clark was Associate Director of Policy with expertise in public health and pharmaceutical-related issues. Mr. Clark previously worked for UC Davis Health as a member of the Transplant Center management team. As Data Operations Supervisor, he focused on regulatory compliance, quality and safety, and data analysis for one of the busiest kidney transplant programs in the United States. Mr. Clark earned a Master of Public Administration from the University of Arizona. He is an ardent promoter of healthy living, with additional experience in suicide prevention, active transportation, and healthy community design.

Smita Das, MD, PhD, MPH
A native of the San Francisco Bay Area (San Jose), Dr. Das studied Chemistry and Statistics at Stanford, completed her Masters in Public Health at Dartmouth College, and then completed her MD/PhD in Community Health at the University of Illinois at Urbana Champaign. She completed residency and was chief resident at Stanford followed by an addiction psychiatry fellowship at UCSF. She has over 15 years of experience in research in smoking cessation and addiction. Dr. Das has received several prestigious fellowships and awards including the ASAM Young Investigator Award, SAMHSA/APA Substance Abuse Fellowship, Ruth Fox Scholarship, American Society of Addiction Medicine, George Ginsberg MD Fellowship, Association of Women Psychiatrists Leadership Fellowship, APA Resident Recognition Award, American Psychiatric Leadership Fellowship and an ongoing appointment to the APA Addiction Council. She has been involved in Northern California Psychiatric Society since 2012, first as a resident councilor, then secretary and now President Elect. Dr. Das is Director of Addiction Treatment Services at the Palo Alto VA.

Dustin DeYoung, MD
Dustin DeYoung, MD, is a psychiatrist for the University of California, Los Angeles (UCLA) Behavioral Health Associates and a research physician for the UCLA Department of Family Medicine. He received his medical degree from the University of Michigan Medical School and completed a combined residency in Psychiatry and Family Medicine at the University of Iowa Hospitals and Clinics. He then completed a NIDA-sponsored T32 Training Program on Addiction Medicine at UCLA. Dr. DeYoung is board certified in Psychiatry, Family Medicine, and Addiction Medicine. He has a busy general psychiatry practice, has worked on multiple NIH-funded clinical trials evaluating different medications for the treatment of methamphetamine use disorders, and sees patients as part of the UCLA Integrated Pain Management Unit. He is most interested in the integration of mental health and addiction services, chronic pain and opioid addiction, and the benefits and risks of cannabis use.

Helen "Py" Driscoll, MD
Consulting Physician: Internal Medicine and Addiction Medicine at Alta Mira Recovery Program in Sausalito California Dr. Driscoll serves as a primary independent consulting medical physician and is responsible for the detoxification and medical needs the residential clients. She is board certified in both Internal and Addiction Medicine. Dr. Driscoll has 21 years of experience at Alameda County Medical Center in Oakland where she completed her residency and later served as an attending hospitalist instructing a team of residents, interns, and medical students. She has cared for over 7,500 patients suffering from medical complications caused by addiction. Dr. Driscoll earned her medical degree from Jefferson Medical College in Philadelphia and Bachelor's in Human Biology at Brown University.

Terry V. Eagan, MD

Timothy W. Fong MD
Dr. Fong is a Professor of Addiction Psychiatry at the Semel Institute for Neuroscience and Human Behavior at UCLA. He is the Director of the UCLA Addiction Psychiatry Fellowship, a one-year program designed to provide a leading edge clinical and research training experience. He is the co-director of the UCLA Gambling Studies Program. The purpose of this program is to examine the underlying causes and clinical characteristics of gambling disorder to develop effective, evidence-based treatment strategies.
Finally, he is a founding faculty member of the UCLA Cannabis Research Initiative, a university-supported program to examine the impact of cannabis on body, mind and brain.

Matthew Goldenberg, D.O., MRO, FAPA, FASAM
Matthew Goldenberg D.O. is double Board Certified in Psychiatry and Addiction Psychiatry and is a certified Medical Review Officer (MRO). Dr. Goldenberg is an expert in the evaluation and treatment of mental health disorders and is an addiction specialist for adults in his private practice in Santa Monica, California. Dr. Goldenberg is a trusted aviation and HIMS trained psychiatrist and has extensive clinical and academic experience evaluating and treating healthcare providers. Dr. Goldenberg provides addiction psychiatry consultations to some of the nation's top residential and outpatient treatment programs in the Los Angeles area. Dr. Goldenberg is experienced in the evaluation and treatment of professionals working in safety sensitive positions, including physicians and other healthcare providers and is an FAA HIMS trained psychiatrist who provides evaluations for pilots and air traffic controllers who require mental health and/or substance related evaluations for the FAA. In addition to his clinical work, Dr. Goldenberg is an active author, researcher and invited speaker at local and national conferences. He also volunteers his time as a Clinical Instructor in the Department of Psychiatry at UCLA and is an Assistant Professor of Psychiatry at Cedars Sinai Medical Center. Dr. Goldenberg is the current Chair of California Public Protection and Physician Health (CPPPH).

Laura Green, MFA
Laura Green (director / producer) is a documentary director and editor based in San Francisco. She has directed, produced and edited five short documentaries, which played at numerous festivals, including Palm Springs Shortfest, Aspen Shortsfest, Sarasota Film Festival, Mill Valley Film Festival, and Outfest. She edited True Son (2014), a feature length documentary, which premiered at the Tribeca Film Festival, as well as the ITVS-funded documentary web-series The F Word. Green is also an Assistant Professor at San Francisco State University. The Providers is her debut feature film.

William F. Haning, MD, DFASAM, DFAPA
Bill Haning is Emeritus Professor of Psychiatry at the John A. Burns School of Medicine, University of Hawai'i, where he served as Director of M.D. Programs until retirement (2017); he directs the Addiction Psychiatry/Addiction Medicine Residency Training Programs and is PI for the Pacific Addiction Research Center (PARC®). Editor-in-Chief of the ASAM Weekly, he chairs the Examination Committee, Addiction Psychiatry, American Board of Psychiatry and Neurology (ABPN). His A.B. (Philosophy) is from Princeton University, his M.D. is from the University of Hawai`i at Manoa. He is a Member of the American College of Psychiatrists, a Distinguished Fellow of ASAM, and a Distinguished Fellow of the American Psychiatric Association. In April 2019 he succeeded Dr. Paul Earley as President-Elect of ASAM.

Dana Harris, MD
Dr. Harris is an adult psychiatrist in private practice in Brentwood, California. She is board certified in General Psychiatry and Addiction Medicine, and is currently engaged in a 1000 hour fellowship with the Academy of Integrative Health and Medicine, with a vision of bringing a more holistic approach to the biological treatment of addiction. She has worked in a variety of treatment settings, from prestigious residential and outpatient treatment centers to non-profit community mental health clinics. She helped launch UCLA's Dual Diagnosis Clinic where she served as an attending physician. She is a member of the California Society of Addiction Medicine's Education Committee, and has served for many years as a member of the conference planning committees and as Conference Chair in 2014. Her clinical interests include mind-body practices for the management of depression, anxiety, and addiction. Her private practice is aimed at helping women achieve wellness by working with them to customize a holistic health plan that incorporates nutrition, movement, meditation, and community.

Leslie Hayes, MD
Leslie Hayes, MD, works for El Centro Family Health in Espanola, NM, as a family physician. While Dr. Hayes enjoys all aspects of family medicine, her particular passion is taking care of people with opioid use disorder. She especially enjoys working with pregnant women and new mothers who have had drug problems and works hard to make sure that they and their babies receive compassionate and appropriate medical care. She got much of her training in substance use disorders through Project ECHO and now considers herself extremely fortunate to have been able to give back to Project ECHO, and she now provides training for other providers around the state of New Mexico in substance use disorder and use of buprenorphine. She was named a White House Champion of Change in April of 2016 for her work with substance use disorder and pregnancy.

Abigail J. Herron, DO, FAPA, DFASAM
Abigail J. Herron, DO, is the Vice President for Behavioral Health and the Director of Psychiatry and Addiction Medicine at the Institute for Family Health. She is board certified in adult psychiatry, addiction psychiatry and addiction medicine, and is an Assistant Professor of Psychiatry and Family Medicine at the Icahn School of Medicine at Mt. Sinai. Dr. Herron is a fellow of the American Psychiatric Association and a Distinguished Fellow of the American Society of Addiction Medicine. She graduated from Wesleyan University and the University of Medicine and Dentistry of New Jersey School of Osteopathic Medicine. Dr. Herron completed her psychiatry residency at St. Luke's and Roosevelt Hospitals, where she was also chief resident, and a clinical research fellowship in addiction psychiatry at Columbia University and the New York State Psychiatric Institute. Her academic interests include treatment of co-occurring disorders, integrated care, and medical education. She is the co-editor of the Addiction Casebook, and the editor-in-chief of ASAM's Essentials of Addiction Medicine.

Melinda Hill
Melinda is a comedian, writer and actress who travels the world doing stand-up with a focus on healing through humor, overcoming addiction, and female empowerment. She's been called the female David Sedaris by LA Weekly and her stand up has been featured on The Late Late Show, Bonnie Hunt Show, BBC's World Stands Up, Comics Unleashed, Who Wants to Date a Comedian, Stand Up In Stilettos and Comedy TV.

Michael Hoefer, MD
Dr. Michael Hoefer is the Program Director of the UCSF Addiction Psychiatry Fellowship and Medical Director of the Opioid Treatment Program at the San Francisco VA Medical Center. He is also the Chair of the Education Committee for the American Academy of Addiction Psychiary. He received his professional training from the UCSF General Psychiatry Residency and Yale Addiction Psychiatry Fellowship. His areas of interest are medical education, pharmacologic treatments for opioid use disorder, best practices in clinical drug testing, and motivational interviewing.

Brian Hurley, MD, MBA, DFASAM
Brian Hurley, MD, MBA, DFASAM is an addition psychiatrist and the Director of Addiction Medicine for the Los Angeles County Department of Health Services. Brian is currently a Director at Large for the American Society of Addiction Medicine (ASAM) and gives presentations around the world related to addiction medicine. He has served in various positions on the Board of Directors of ASAM for fifteen years and was ASAM's Treasurer from 2015-2019. He is a volunteer clinical faculty as an Assistant Professor of Addiction Medicine in the UCLA Department of Family Medicine. He additionally serves on the American Board of Psychiatry and Neurology's Addiction Psychiatry examination writing committee. Brian completed the Robert Wood Johnson Foundation Clinical Scholars Program at the University of California, Los Angeles (UCLA), and was previously a UCLA - Veterans Administration National Quality Scholar at the VA Greater Los Angeles Healthcare System. He completed a fellowship program in addiction psychiatry at New York University School of Medicine. He completed residency training at the Massachusetts General Hospital and McLean Hospital, where he was Chief Resident in Addiction Psychiatry. Brian is a former National President of the American Medical Student Association.

Martha J. Ignaszewski, MD
Dr. Ignaszewski is a current Addiction Psychiatry fellow at UCSF. Her interest in the far-reaching impact of trauma on development and varied psychopathologies including substance use, resulted in the completion of Child and Adolescent Psychiatry Fellowship at Boston Children's Hospital. She plans to combine her training towards the evaluation and treatment of adolescent, adult, and family substance use while maintaining a developmental and trauma informed approach. S

Mitika Kanabar, MD, MPH

David Kan, MD, DFASAM
Dr. David Kan is Chief Medical Officer of Bright Heart Health, the first of its kind addiction telehealth treatment program. Dr. Kan is also a psychiatrist in private practice in addiction, forensic and general psychiatry. Dr. Kan is the President of CSAM and the chair of the opioid committee. Dr. Kan has served CSAM as a member of the Board of Directors since 2011. Dr. Kan is active in political advocacy on behalf of all of our patients.

Salomeh Keyhani, MD MPH
Dr. Keyhani is a general internist and a health services researcher. She has several ongoing studies examining the health effects of marijuana. She is benchmarking the current evidence base and has led several systematic reviews examining what is known about the cardiovascular, pulmonary, and carcinogenic effects of marijuana use. She is also leading an NIH funded prospective cohort study examining the cardiovascular effects of marijuana use among older adults.

Tipu V. Khan, MD, FAAFP, FASAM
Fellowship Director - Primary Care Addiction Medicine Fellowship. His clinical practice includes emergency medicine, high risk obstetrics including addiction in pregnancy, inpatient medicine, addiction medicine, street and international medicine, and quality improvement and scholarly activity. He is a board certified Addiction Specialist.

Kimberly Kirchmeyer
Kimberly Kirchmeyer, Executive Director of the Medical Board of California, is responsible for overseeing the daily operations of the organization and the delivery of program services to the consumers and physicians of California. She works closely with the Board to promote effective planning and implementation of its policies into program operations. Ms. Kirchmeyer has over 27 years of state service with diverse experience in a variety of programs since her arrival at the Medical Board in August 1999. She became Deputy Director of the Medical Board in 2005. Ms. Kirchmeyer was Deputy Director until her appointment by Governor Schwarzenegger as Deputy Director of Board and Bureau Relations for the Department of Consumer Affairs in 2009. Ms. Kirchmeyer returned to the Medical Board as Deputy Director in June 2011. In June 2013, Ms. Kirchmeyer was appointed as the Interim Executive Director until her appointment to the permanent Executive Director position in February 2014.

Martin Leamon, MD
Dr. Leamon is a Health Science Clinical Professor of Psychiatry at University of California, Davis, where he is the addiction psychiatrist for UC Davis Health and the Department of Psychiatry and Behavioral Sciences. Additionally, he is heavily involved in undergraduate and postgraduate physician and other medical professional education. He has authored/co-authored over 90 academic works and peer-reviewed publications on substance-related disorders and education-related topics, and has consulted to local and state governmental organizations. Dr. Leamon received his MD from Boston University School of Medicine and completed his residency in Psychiatry at Letterman Army Medical Center

Edythe D. London, Ph.D.
Edythe London is a Distinguished Professor of Psychiatry and Biobehavioral Sciences, and of Molecular and Medical Pharmacology at the University of California Los Angeles. A pioneer in brain imaging to study addiction, she has performed translational studies, elucidating neurochemical and circuit-level abnormalities that inform evidence-based treatments. Bridging psychiatry, pharmacology and neuroscience, her work has provided notable firsts: mapping drug-induced euphoria and drug craving in the human brain, visualizing the cerebral distributions of actions of abused drugs, and developing probes for external brain imaging. Her contribution to development of radiotracers for human research has facilitated research on addictions and other neuropsychiatric disorders. Focusing on corticostriatal circuitry, dopamine receptor signaling, and executive functioning, her recent work follows her seminal findings of prefrontal cortical and cognitive deficits in cocaine users, and provides a potential therapeutic target for addiction treatments, and a mechanism by which dopaminergic neurotransmission modulates decision-making through an interactive frontostriatal system.

Paula J. Lum, MD, MPH, FASAM
Paula J. Lum, MD, MPH, FASAM is an HIV primary care physician and Professor of Medicine at the University of California, San Francisco. Her clinical practice, teaching, and research focus on the health of marginalized urban populations, especially persons who use drugs. She is board certified in internal medicine and ABAM-certified in addiction medicine. She also serves as the Program Director of the UCSF Primary Care Addiction Medicine Fellowship, which prepares primary care physicians to become leaders in the care of persons with substance use disorders in the safety net communities of San Francisco.

Robert H. Lustig, MD, MSL
Robert H. Lustig, M.D., M.S.L. is Emeritus Professor of Pediatrics in the Division of Endocrinology, and Member of the Institute for Health Policy Studies at UCSF. Dr. Lustig is a neuroendocrinologist, with expertise in metabolism, obesity, and nutrition. Dr. Lustig graduated from MIT in 1976, and received his M.D. from Cornell University Medical College in 1980. He also received his Masters of Studies in Law (MSL) degree at University of California, Hastings College of the Law in 2013. He is the author of the popular books Fat Chance (2012), and The Hacking of the American Mind (2017). He is the Chief Science Officer of the non-profit Eat REAL.

Jean Marsters, MD,
Dr Jean Marsters is a psychiatrist who works in a primary care safety net clinic in Alameda County doing general psychiatry. She also consults around opioid safety and safer prescribing practices.
She is a longtime member of CSAM, is the Chair of the CSAM Education Committee and sits on the CSAM Board.
She has interests in helping CSAM explore developing grant funded educational activities and long-term planning for CSAM.
She is the recipient of the Vernelle Fox award in 2018

Thomas W. Meeks, MD, FASAM
Dr. Meeks is Medical Director of the Addiction Recovery Treatment Services at the Sacramento VA Medical Center and Assistant Clinical Professor of Psychiatry at UC Davis. He graduated from the Medical College of Georgia and then trained at Emory University in Atlanta and at UC San Diego. He is board certified by the American Board of Addiction Medicine & American Board of Psychiatry & Neurology, and a member of the California Society of Addiction Medicine.

Joseph Mega, MD, MPH
Joseph Mega, MD, MPH currently serves as Medical Director for the Health Care for the Homeless program in Contra Costa County, California. Dr. Mega has been working to expand medication-assisted treatment (MAT) for opioid use disorder to homeless and vulnerable populations through novel delivery models, such as street outreach and low-barrier walk-in clinics. The Health Care for the Homeless program also manages the county's group-based MAT outpatient program, which currently serves over 600 patients. Dr. Mega is particularly interested in innovative efforts to expand addiction and harm-reduction services to vulnerable populations. In addition, Dr Mega has been working with the County Detention facilities to ensure patients have access to MAT while they are incarcerated and to naloxone upon release. He also works in the Emergency Department at the Contra Costa Regional Medical Center and has written the MAT protocols for the patients presenting to the Emergency. The hospital system was recently awarded the ED-BRIDGE grant to expand MAT services to all areas of the hospital and Dr Mega will be leading this expansion effort.

Veronika Mesheriakova, MD
Dr. Veronika Mesheriakova is an assistant professor in clinical pediatrics in the division of adolescent and young adult medicine at UCSF and is the assistant director of the outpatient adolescent and young adult medicine clinics. Dr. Mesheriakova is board certified in pediatrics and adolescent medicine and is working toward board certification in addiction medicine. She provides primary care for adolescents and young adults ages 12-25 as well as specialty services that include treatment of eating disorders, mood and anxiety disorders, and substance use disorders. She is the director of the new UCSF Youth Outpatient Substance Use Program (YoSUP) and provides clnical instruction on the prevention and treatmetn of substance use disorders among adolescents to UCSF medical students, Pediatrics residents, and Adolescent Medicine fellows.

Karen Miotto, MD, DFASAM
Dr. Karen Miotto is a Professor in the Department of Psychiatry and Behavioral Sciences at the David Geffen School of Medicine and the Chair of the UCLA Physician Wellness Program. The Physician Wellness Program assists physicians and physicians in training who experience stress, burnout, substance use, and psychological struggles. The program advocates for physician wellbeing through wellness education, service, and prevention efforts. She was named the 2016 recipient of the California Medical Association (CMA) Gary S. Nye Award for Physician Health and Well-Being and one of the 2017 recipients of the Los Angeles County Medical Association (LACMA) Women in Medicine Award in recognition of her advocacy and promoting the well-being of her fellow physicians.

Marie A. Mulligan, MD
• Family Practitioner, Kaiser Permanente, 1991 – 2004
• Associate Chief Medical Officer, Santa Rosa Community Health, 2006 - current
I have provided primary care to patients living with substance use disorders and their family members for more than twenty years. I have worked at SRCH since 2006 providing primary care to primarily Spanish speaking and English-speaking patients, including those living with severe mental illness and homelessness. Given the crisis in access to high quality mental health, addiction services and the growing role that the primary care workforce plays in meeting these needs, I am committed to systematically developing our primary care workforce to enhance capacity in both mental health and addiction medicine.

Julie G. Nyquist, PhD
Julie G Nyquist, PhD is a professor in the Department of Medical Education and Director of the Master of Academic Medicine Program in the Keck School of Medicine of the University of Southern California. The master's program has four core foci: teaching/learning, leadership, scholarship and wellbeing. Dr. Nyquist has integrated the focus on wellbeing into the program over the past two years and is passionate about sharing the importance of building and using a 21st century mindset that includes the concepts of growth versus fixed mindset, self-compassion, vulnerability, grit, and resilience. Dr. Nyquist has been on the faculty at USC since 1981 and has developed and delivered over 800 workshops to a variety of health care professionals. Dr. Nyquist is a current board member of MERF.

Ricardo Restrepo-Guzman, MD, MPH
Dr. Restrepo-Guzman is a psychiatrist interested in the field of cultural psychiatry and human rights, and currently manages a substance abuse and mental health program that he developed at the Long Beach VA Hospital, which is affiliated with the University of California, Irvine. He has conducted medical evaluations and clinical treatment of people who have survived torture and other forms of abuse and has been a PHR volunteer since 1998. He has worked with immigrant populations in the United States for over 15 years. He has been a United Nations Consultant since 2005 and has participated actively in the implementation in Mexico and in Colombia of the Manual on Effective Investigation and Documentation of Torture and Other Cruel, Inhuman, or Degrading Treatment or Punishment, also known as the Istanbul Protocol.

Christopher Rienas, MD
Dr. Christopher Rienas recieved his MD from the University of Miami Miller School of Medicine in 2015 and completed his Adult Psychiatry Residency at the Univerisity of California San Francisco (UCSF) in 2019. He is currently an Addiction Psychiatry Fellow at UCSF. His clinical interests include adolescent substance use disorders, dual diagnosis, consultation liaison psychiatry and emergency psychiatry.

Richard Ries, MD, DFASAM, FAPA
Dr. Richard Ries is Professor of Psychiatry at the University of Washington Medical School in Seattle, Washington. Dr. Ries serves as Director of the Addictions Division , Associate Director of the University of Washington Addiction Psychiatry Residency Program and works clinically t at Harborview Medical Center. He has obtained NIDA sponsored clinical research grants on Co-occurring Disorders, including suicide and addictions. Dr. Ries was chosen to chair the first official Treatment Improvement Protocol (TIP#9-1994) on dual disorders and co-chaired its update TIP 42 by the Center for Substance Abuse Treatment. He was lead editor of the key reference text Principles of Addiction Medicine, editions 4 and 5, published by the American Society of Addiction Medicine.

Andrea Rubinstein, MD
Dr. Andrea Rubinstein is a board certified anesthesiologist and is the chief of the Department of Chronic Pain at Kaiser Permanente, Santa Rosa where she also holds the local research chair position. Her research and clinical interests include opioid risk rassessment and management of complex polypharmacy in patients with pain. She is an active researcher currently looking at immunological risks forinfection and sepsis among people using opioids chronically and is busy looking at the effect of Kaiser Permannetes recent opioid safety initiatives She is a third generation native Bay Area resident, grew up in Berkeley, attended Stanford Medical School and did her residency at Duke University in Durham, North Carolina.

Kenneth Saffier, MD, FASAM
Ken Saffier is a family and addiction medicine physician involved in medical school, residency and health professions education throughout his career, focusing on addiction medicine, chronic pain management and motivational interviewing. He is a member of the Residency Leadership Group of the Contra Costa Regional Family Medicine Residency, located in Martinez, California. In 2008, he completed a faculty development fellowship at USC's Division of Medical Education and is Clinical Professor in the Department of Family and Community Medicine, UC San Francisco. As a member of The American Society of Addiction Medicine and the California Society of Addiction Medicine's education committee, he has given regional and national presentations on addiction medicine and motivational interviewing for primary care professionals. In 2012, he became a member of the Motivational Interviewing Network of Trainers. In local and regional family medicine residencies and in the Society of Teachers of Family Medicine's Group on Addictions, he has been active in integrating addiction medicine into residency curricula. His current interest is developing mentored faculty-resident teams to promote curricular change. After receiving his medical degree from SUNY, Stony Brook, he completed his family medicine residency at Chicago's Cook County Hospital, and has continued to work in "safety net" hospitals in medically underserved communities. He is certified by the American Board of Family Medicine and the American Board of Addiction Medicine.

Mario F. San Bartolome, MD, MBA, MRO, FASAM
Dr. San Bartolome is a board certified in both addiction medicine and family medicine. "Dr. Mario" has extensive clinical, teaching and leadership experience geared toward patient advocacy. Currently, Dr. San Bartolome serves as the treasurer of CSAM and as Medical Director of Substance Use Disorders for Molina Healthcare, one of the largest health plans serving millions of members with government benefits like medicaid and medicare. Dr. San Bartolome remains clinically active seeing patient in residential treatment facilities, centers for withdrawal management and outpatient addiction medicine. Dr. San Bartolome serves on the CSAM public policy committee and on the ASAM payer relations committee. In addition to his medical subspecialty in addiction medicine, Dr. San Bartolome holds a Master's in Business Administration with an emphasis in information technology and is a certified medical review officer.

Ingeborg Schafhalter-Zoppoth, MD, FACP
Dr. Ingeborg Schafhalter-Zoppoth is an internist and primary care physician at CPMC/SPMF board-certified in internal medicine and addiction medicine. After completion of her medical training in Austria she worked as researcher at UCSF and finished her residency in internal medicine/ primary care at Alameda County Medical Center. She now works as clinician educator for the CPMC internal medicine residency program where she teaches outpatient management, addiction medicine and quality improvement. Dr. Schafhalter-Zoppoth is an associate professor at the University of California San Francisco.

Steven J. Shoptaw, PhD
Steve Shoptaw, PhD a licensed psychologist and director of the Center for Behavioral & Addiction Medicine. He is Professor in Family Medicine & Psychiatry and Biobehavioral Sciences, and Vice Chair for Research in Family Medicine. His portfolio of work focuses on the medical treatment of addiction and HIV prevention in the context of addiction. For over 25 years, he has conducted Phase Ib and IIa randomized clinical trials of medications and behavioral interventions for stimulant dependent individuals. Within these trials, he consistently includes investigations of putative efficacy for how medications might work. He is a member of the DAIDS-funded, HIV Prevention Trials Network (HPTN) Executive Committee, and site leader for two on-going HPTN trials evaluating a broadly neutralizing antibody (VRC-01) and a long-acting cabotegravir injection. Recently, he was awarded a 5-year renewal of a cooperative agreement (U01DA036267) to continue a cohort of minority men who have sex with men to investigate interactions between non-injection use of methamphetamine, cocaine, opiates and binge drinking and transmission and progression of HIV. He recently completed a trial (R21DA040492) of contingency management for methamphetamine use disorder in South Africa. Furthermore, he recently took over as PI of the longstanding center grant, the Center for HIV Identification Prevention and Treatment Services (CHIPTS; P30MH058107-21). He is the site principal investigator for ADAPT-2, a study which aims to investigate the effectiveness and safety of a combination pharmacotherapy for methamphetamine use disorder. In addition to his research portfolio, he maintains a clinical psychology practice at UCLA.

Lee T. Snook, Jr., MD, FACP, DABPM , DFASAM
Lee Thomas Snook, Jr., MD, FACP, , DABPM, FASAM is President and Founder of Metropolitan Pain Management Consultants, Inc., an Accredited Association for Ambulatory HealthCare (AAAHC) Medical Group, in Sacramento, California. Dr. Snook is board certified in Internal Medicine, Anesthesiology, and Anesthesiology with Subspecialty Certification in Pain Medicine, is Board certified in Pain Medicine, and is a Diplomate of the American Board of Addiction Medicine. He is also a Certified Medical Review Officer. (MRO) . He has held an active solo office based medical practice since 1992. He is currently the Speaker for the California Medical Association and Delegate to the AMA for the American Society of Interventional Pain Physicians. He has been a Qualified Medical Examiner since 1996. He also has been on the CSAM Public Policy Committee and Physicians Wellness Committee.

Christine Soran, MD
Christy Soran is a current UCSF Primary Care Addiction Medicine Fellow. Her areas of interest are the integration of addiction medicine treatment in primary care, the overlap of substance use and chronic pain, and educating trainees about the provision of compassionate and evidence-based care for people who use drugs.

David Tian, MD, MPP
David Tian is a physician educator, primary care physician, and addiction medicine provider at Highland Hospital, Alameda Health System. He is an attending physician in Highland's Adult Medicine Clinic, where he also supervises internal medicine residents and leads an integrated, multi-disciplinary addiction treatment team. He coordinates opioid safety initiatives at Alameda Health System and is also the founding medical director of Highland's Buprenorphine Induction Clinic, a low-barrier clinic that receives referrals from across the county for the treatment of opioid use disorder. Dr. Tian completed his M.D. and Master of Public Policy at Harvard University. He is a graduate of the San Francisco General Hospital Primary Care Track of UCSF's Internal Medicine Residency Program.

Matthew A. Torrington, MD
Dr Torrington's clinical focus is on the treatment of stimulant dependence, alcohol dependence, opiate dependence, and pain. A participant in the development and implementation of significant research studies, he has served as Principle Investigator, co-investigator or study physician on numerous clinical trials. Dr Torrington has been involved in the clinical use, clinical research and education of physicians regarding buprenorphine for over 16 years. Dr Torrington is a boarded by the American Academy of Family Medicine and the American Board of Addiction Medicine. He is a distinguished fellow of the American Society of Addiction Medicine, a member of the Committee on Treatment of Opioid Dependence of the California Society of Addiction Medicine and is a certified Medical Review Officer. Dr. Torrington maintains a private practice focusing on the longitudinal disease management of difficult addiction and pain cases.

Takeo Toyoshima, MD
Takeo Toyoshima, MD, is a board-certified psychiatrist and current UCSF Forensic Psychiatry Fellow. He completed his undergraduate studies at Yale, medical school at UCLA, psychiatry residency at UCSF where he served as chief resident, and most recently UCSF's Addiction Psychiatry Fellowship. His clinical areas of interest include addiction and dual diagnosis including those with serious mental illness; forensics; Japanese and Asian-American mental health; and financial health/literacy's relationship with mental health. He is one of few Japanese-speaking mental health providers in the state, and operates a private practice focused on this population.

Catalina Triana, MD
Dr Triana is a Family Physician and medical educator with fellowship training in Behavioral Health . She is part of the faculty at John Muir Health Family Medicine residency program and the co director of the Northern California Faculty Development Fellowship at UCSF. She has nearly 2 decades of experience in family medicine and medical education, partnering with patients, learners, and teams to support positive change, healing and growth. She have been a Motivational Interviewing trainer since 2002 and a member of MINT (Motivational Interviewing Network of Trainers) since 2010.

John Tsuang, MD
Dr. Tsuang is the director of the Dual Diagnosis Treatment Program at the Harbor/UCLA Medical Center. He is a Clinical Professor of Psychiatry at the UCLA School of Medicine. Dr. Tsuang has committed his life's work to treatment of dual diagnosis patients. Dr. Tsuang's research interests focus on the pharmacological treatment and psychosocial rehabilitation for dual diagnosis patients. Dr. Tsuang has received numerous clinical awards and has activley participated in CSAM for the last 20 years. Outside of his professional life, Dr. Tsuang enjoys taking care of his three daughters and playing golf once in awhile.

Mason S. Turner, MD
Mason Turner, MD, is a psychiatrist at the Maui Lani Medical Office. He received his bachelor's degree in psychology from Dartmouth and his medical degree from the University of Texas Southwestern Medical Center. He completed his internship and psychiatric residency at Harvard Medical School. He is a member of the American Psychiatric Association, and he served as director of outpatient mental health and addiction medicine for Kaiser Permanente Northern California.

Farah Zaidi, MD
Dr. Zaidi completed her psychiatry residency training from San Mateo County Psychiatry Residency Training Program and completed public psychiatry fellowship from ZSFGH/UCSF. She is a full time General and Adult psychiatrist and Psychiatry Residency Program's Core faculty at San Mateo County. She is also affiliated with Zuckerberg San Francisco General Hospital/UCSF in psychiatric emergency services. She is an active member of Suboxone committee at San Mateo Medical Center and is involved in advocacy for easy access of buprenorphine for patients with OUD. She is active in educating and encouraging primary care providers in getting X-Waivers for Buprenorphine prescriptions and have developed manual for Buprenorphine use by providers. She is also a primary author on hospital's methadone policy and writing policy for substance related impairment in psychiatry residents. She has given grand rounds talks on substance related impairment in healthcare providers. Some of her professional areas of interest include management of co-occurring, substance use and psychiatric disorders, psychodynamic issues in attachment with substances, residents and providers' education and substance use related impairment in health care providers. She is actively involved in CSAM for the past 5 years in different capacities and have been awarded MERF scholarship twice, 1st time as a resident trainee and 2nd time as a faculty. She plans to become Addiction Medicine Board Certified this year to continue and further her advocacy and support for patients struggling with addictions.

Tauheed Zaman, MD
Tauheed Zaman, M.D. is an addiction psychiatrist at the San Francisco VA Medical Center, where he serves as Medical Director of the addiction consult service and opioid safety team. He is an Assistant Clinical Professor of psychiatry at UCSF, and Associate Director of the UCSF Addiction Psychiatry Fellowship. He completed his addiction training at UCSF, and his adult psychiatry residency at Harvard Medical School.

Fay Zenoff, MBA
Fay Zenoff is Executive Director of Open Recovery, a virtual, social-impact, non-profit focused on ending the stigma of addiction and championing recovery through media messaging, education and events. She is also co-founder of Zenoff Consulting Associates, a firm working with organizations to support the development of recovery-conducive workplace environments, policies and cultures that tackle stigma and support wellness for all employees. Fay is a recovery nationally respected advocate whose views, personal experiences and professional work have been the subject of numerous articles and interviews, including in The New York Times, Bloomberg Business Week, USA Today, The California Report on NPR, among others. Fay is a frequent guest speaker, educator and panelist focused on the power of being open as a means to end shame and stigma. She is the recipient of Constellation Behavioral Health's Courage Award for her work in the field. Fay earned an MBA from the Kellogg Graduate School of Management at Northwestern University with a BA from Sarah Lawrence College. Fay lives in Northern California and has been sober and in recovery since 2007.

Barry Zevin, MD
Barry Zevin is medical director of Street Medicine and Shelter Health, San Francisco Department of Public Health. He has 25 years of experience as a healthcare for the homeless physician in San Francisco. He is Board Certified in Internal Medicine and Addiction Medicine. His special interests include healthcare for homeless people, comprehensive healthcare for people who use substances, transgender healthcare, HIV and Hepatitis C disease, and harm reduction addiction medicine. He is Assistant Clinical Professor of Medicine at University of California San Francisco School of Medicine. He is former medical director of Caduceus Outreach and Harm Reduction Therapy Center. Dr. Zevin has provided leadership for many innovative SFDPH projects including the current low barrier buprenorphine project to improve access to treatment for addiction disorders for individuals experiencing homelessness. He was the 2017 recipient of the CSAM Vernelle Fox Award.
CREDIT
CSAM
The California Society of Addiction Medicine (CSAM) is accredited by the Institute for Medical Quality/California Medical Association to provide continuing medical education for physicians. CSAM takes responsibility for the content, quality and scientific integrity of this CME activity.
CSAM designates this live educational activity for a maximum of 15 AMA PRA Category 1 Credits™, Physicians should only claim credit commensurate with the extent of their participation in the activity.
Continuing education credit is available for psychologists, therapists, substance use counselors, nurses and physician assistants.
AAFP
This Live activity, CSAM 2019 Addiction Medicine Review Course and Board Exam Preparation Track, with a beginning date of 09/04/2019, has been reviewed and is acceptable for up to 15.00 Prescribed credit(s) by the American Academy of Family Physicians. Physicians should claim only the credit commensurate with the extent of their participation in the activity.
MAINTENANCE OF CERTIFICATION (MOC)
ABPM
The American Board of Preventive Medicine (ABPM) has approved this activity for a maximum of 15 LLSA credits towards ABPM MOC Part II requirements.

ABAM
This course has been approved by the American Board of Addiction Medicine (ABAM). Physicians enrolled in the ABAM Transitional Maintenance of Certification (tMOC) Program can apply a maximum of 15 AMA PRA Category 1 Credits™ for completing the CSAM Addiction Medicine Review Course.

ABIM
Successful completion of this CME activity, which includes participation in the evaluation component, enables the participant to earn up to 15 MOC points in the American Board of Internal Medicine's (ABIM) Maintenance of Certification (MOC) program. Participants will earn MOC points equivalent to the amount of CME credits claimed for the activity. It is the CME activity provider's responsibility to submit participant completion information to ACCME for the purpose of granting ABIM MOC credit.
Available Credit
15.00

AMA Category 1

15.00

Attendance